Festival & Event Organizations
Renowned annual events and festivals draw visitors from around the world to the Eugene, Cascades & Coast region. Dedicated non-profits and organizations produce many of these highly esteemed gatherings. Eugene is home to Oregon's largest Asian festival, multiple film festivals, abundant culinary fetes and many outstanding sports events.
Enjoy counterculture immersion at the Oregon Country Fair, or watch traditional folk dances at the Scandinavian Festival. From chainsaw art along the McKenzie River to abundant blooming rhodies during Florence's Rhododendron Festival, memorable celebrations fill the calendar.

Get a free travel guide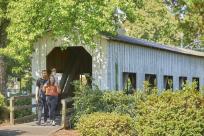 Time to plan the best family vacation ever! Discover new hiking trails, hidden waterfalls, serene…
More

Info

›