Discover 65 Places to Fish in Lane County
The Willamette River runs through the Eugene-Springfield metro area and is fed by three major rivers: the McKenzie, Middle Fork Willamette and Coast Fork Willamette. Along with the rivers, the Cascades boast many more lakes, pools and streams. Florence is surrounded by large dune lakes, the Siuslaw River and Pacific Ocean. With so many places to fish, it's no wonder Lane County is an anglers' paradise.
The downloadable fishing guide is an excellent tool for planning your fishing trip.
See where to catch trout, salmon, steelhead, bass, crappie, bluegill, carp and more
Learn which spots offer accessibility, restrooms, boat ramps, picnic facilities and campsites, and which are fee areas
Print the map, or access it on your phone
"Fishing in Oregon is legendary. Pure rushing rivers, serene mountain and coastal lakes offer divers fishing experiences. And we aren't just telling fish tales. It's the real thing!" - Samara Phelps, Springfield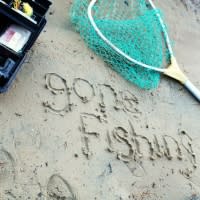 Many of our local guides have grown up on the river. Fishing is just what they do. Consult with these local experts to outfit you for our rivers. Browse the shops, sign up for instruction or explore upstream with a professional.
Lounge at a Lodge
Over a dozen riverfront cabins and comfortable lodges are tucked away along the McKenzie River. Soak in a hot tub or hot spring-fed pool, grill on the back deck, play horse-shoes or volleyball, and best yet - fish just steps from your cozy quarters.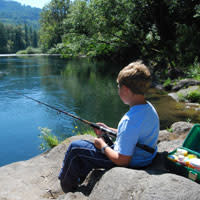 Ready to haul in the big one? After you've acquired your license, head out to these prime fishing spots - and discover miles of serene shoreline where you can choose just the right place to fish. Enjoy the solitude.