Earnest Covered Bridge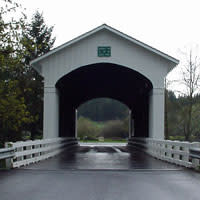 Sometimes called the "Mohawk River Bridge," this classic white covered bridge served as a movie location in the 60s. 
Earnest Covered Bridge is a beautiful picnic location, attracting day trippers and plein air painters. Geocachers enjoy searching for a cache located in the vicinity. Despite its remote location, the bridge is accessible by bicycle. Greater Eugene Area Riders (GEARS) recommends a 45-mile (13.7 m) bicycle ride looping from Alton Baker Park to the bridge. 
Features
Design - Covered Howe truss
Length - 75 feet (22.87 m)
Crosses - Mohawk River
Nearest Town - Marcola
Current Access - Vehicles up to 9 tons, maximum height 12'8"
Timeline
Refurbished - 1965
Built - 1903 (original)
Replaced - 1938
National Register - 1979
STORY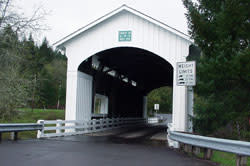 The slightly longer Adams Bridge was first built here by A.N. Striker in 1903. Eventually dilapidated, it was torn down and replaced by Lane County in 1939 for $2,449. It is believed the new bridge was named Earnest after local area residents.
Like many Lane County bridges, Earnest Bridge features a small window on one side for motorists to view oncoming traffic. At one time circus posters lined the interior but those have been removed or disintegrated with time.
The Earnest bridge appeared in the 60s movie "Shenandoah" starring James Stewart. The film company altered the bridge to meld with a Civil War era look and, then post filming, restored it with new siding and paint.
NEARBY ATTRACTIONS
MAP IT
The Adams Bridge was originally built spanning the Mohawk River in 1903. It was replaced in 1938 for $2,449, at a length of 75 feet (23 m) and renamed "Earnest" after a longtime local resident. The movie Shenandoah was filmed in the Mohawk Valley during the mid-1960s and an altered version of Earnest Bridge reflecting Civil War architecture shows in the film. The bridge was returned to its pre-movie condition in 1965. DIRECTIONS: Go east on Marcola Rd for 14 miles (22.5 km). Located on Paschelke Rd.

Paschelke Rd, Marcola OR 97454