Getting Around Town
Getting around town in Eugene is easy and convenient with a variety of options to choose from. Several of the listed conference hotels provide shuttle service for guests of the hotel. If you like to get a bit of exercise in on your short commute to the UO, rent a bike and cruise the river-bank bike path. Most of the hotels are within less than two miles from campus, several are within a mile, so walking is a great alternative. Taxi-cabs are an easy phone call away and some taxi companies will be staged at the hotels for convenient access. Our public transit system, Lane Transit District (LTD) is fast and convenient. Check the website for maps, schedules and fare information. 
Hotel Shuttle Service
Hilton Eugene
Hyatt Place Eugene/ Oakway Center
Inn at the 5th
Valley River Inn
Taxi-cab Information  
Oregon Taxi                                               Eugene Hybrid Taxi 
541.345.1234                                            541.357.8294
Oregontaxi.com                                         EugeneHybridTaxicabs            
Bike share offers a healthy, convenient and fun way to explore our community.
PeaceHealth Rides is a network of bike share stations, where users can pick up and drop off publicly available bicycles for one-way trips across the city. These bikes are smart and sharp, with GPS tracking and built-in safety features – so you can roll with confidence on a bicycle built for you.
List of Bike Rental Companies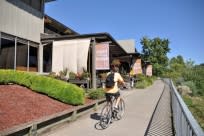 556 Charnelton St, Eugene 541.344.4105 Cost: Hybrid bikes: $24 /day Road Bikes and Tandem: $48/day…
More

Info

›
Adaptive Recreation Services
Hilyard Community Center
2580 Hilyard St
Eugene OR 97405
Phone: 541.682.5311
Accessible bikes
$10/hour, $40/day or $50/weekend (Fri. afternoon-Mon. morning) or $100/week. Credit card deposit required.  Assessment required before renting. $40 assessment fee includes a free one hour rental.

Blue Heron
877 E 13th Ave
Eugene OR 97401
Phone: 541.343.2488
Cost: Hybrid $5 an hour, $15/day Road bikes $25 /day
 
Life Cycle
556 Charnelton St
Eugene OR 97401
Phone: 541.344.4105
Cost: $35/day - $75/day
Rent A Bike Eugene
Online/Delivery for free
Phone: 541.579.5552
Cost: $25/day Commuter Bikes

Simply Cycle
315 E 13th St
Eugene OR 97401
Phone: 541.844.2183
Cost: $30/day
Spinlister
Various biking rental rates available 
UO Bike Program
1225 E 18th Ave
Eugene OR 97401
Phone: 541.346.4371
Cost: $15/day Touring Bikes $10/day Commuting Bikes