Advertising
Travel Lane County partners can leverage their partnership through advertising in Eugene, Cascades & Coast print publications, digital platforms and on our website. These a la carte offerings provide a range of opportunities and price points.
For Advertising Assistance:

Mary Ann Reilly
Director of Partnership Development
Mary Ann works to generate revenue and meaningful partnerships for Travel Lane County and the Eugene, Cascades & Coast Sports Commission through partnership sales, sponsorships and advertising opportunities.
Eugene, Cascades & Coast Website
Cost: $50 - $395
First-come, first-served
Ongoing
Page sponsors, featured listings and banner ads featured on Eugene, Cascades & Coast website.
Travel Lane County's online advertising is exclusively available to partners. Our website receives over one million website visits by nearly one million unique users each year. Thirty percent are residents or in-market visitors, and the remainder are out-of-area users at various stages of planning their visit.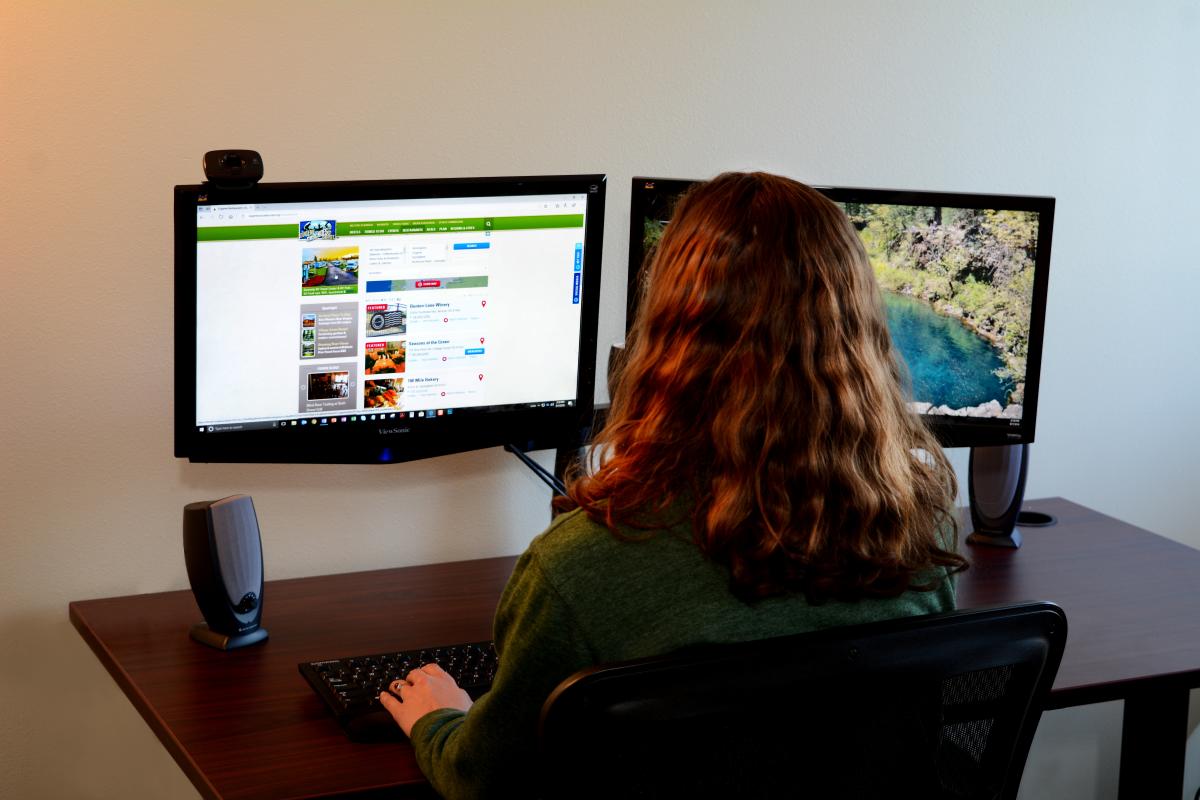 Eugene Airport Video
Cost: $300 - $1,000 annual contract
First-come, first-served
Ongoing
Engage visitors visually on 46" high-definition video screens placed at strategic locations where visitors congregate at the Eugene Airport. Due to ambient noise, it is recommended these messages do not rely on audio to communicate.
Rest Area Event Display Panel
Cost: $200 per month
First-come, first-served
Distribution:

Gettings Creek (14 miles south of Eugene-driving north on I-5 with 1,124,000 travelers estimated annually)
Oak Grove (13 miles north of Eugene-driving south on I-5 with 1,430,800 travelers estimated annually)
Event-only display space at I-5 kiosks. Displays must meet the event requirements as outlined by the Oregon Travel Information Council. Each display panel is an enclosed 22" x 36" vertical Plexiglas case with lock. The board can be used for a full size 11 x 17 printed poster or a collection of images and signage arranged bulletin board style. An adjacent lidded brochure holder can accommodate up to 30 brochures depending on size.
Cost: varies by project
First-come, first-served
Ongoing
Print publications, web pages, e-mails, displays, conferences, events and other special opportunities are announced in our partners' weekly Deadlines & Opportunities e-news.
*All rates are subject to change
Gender
Employment
Full time, 59%
Part time, 13%
Not employed/retired, 28%
Household size
1 member, 15%
2 members, 31%
3 members, 29%
4 members, 14%
5+ members, 11%
Income
Over $75K, 39%
$50-$74.9K, 31%
$25-$49.9K, 13%
Under $25K, 17%
Education
Post-graduate, 26%
College graduate, 53%
Some college, 12%
High school or less, 10%
Age
18-24, 8%
25-44, 42%
45-64, 34%
65+, 16%
Marital Status
Married, 73%
Divorced/widowed, 13%
Never married, 14%
Occupation
Manager/professional, 55%
Other white collar, 15%
Blue collar, 22%
Armed forces/other, 8%
Children in household
No children under 18, 50%
Any child between 13-17, 19%
Any child between 6-12, 20%
Any child under 6, 26%