Website & Online Advertising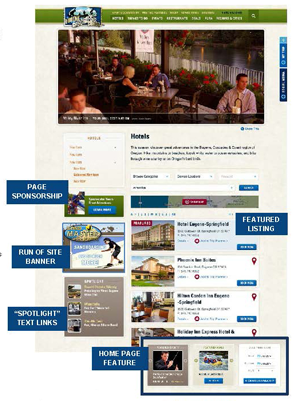 Travel Lane County's online advertising is exclusively available to members!  This past year there were nearly 1 million website visits by almost 700,000 unique users.   
The website serves up visitor information by area of interest, region and city. Thirty percent are residents or in-market visitors and the remainder are out-of-area users at various stages of planning.
Online Ad Space
Online advertising is integrated subtly throughout the EugeneCascadesCoast.org website for a cohesive user-experience. Ad spots include everything from straight forward banner ads to prime photo placements and listing order. Advertising is secured on a first-come, first-served basis.
Run of Site Banner
10K impressions
Size 290 x 243
Characters 40
Page Sponsorships
Price varies by page
Size 250 x 140
Characters 50
Limited spots available per category
Size 320 x 50
(image 90 x 50)
"Spotlight" Text Links
5K impressions
Image Size 60 x 60
Characters 40
Destination Travel Network (DTN)
Destination Travel Network manages Travel Lane County's website ad space. DTN is a division of Simpleview, Inc., Travel Lane County's website provider.
For advertising questions and information contact advertising@dtnads.com.