We're inspired.
The world will come to Eugene and Hayward Field in 2022 when the World Athletics Championships are held in the United States for the first time. The opportunity to host this transformative event has the potential to build reputation, civic pride and economic energy statewide.
Inspired by this opportunity, we are rising to the occasion to shine up our cities, build out our infrastructure, expand our arts, invigorate our environment and learn how we can best serve our international guests. 
Interested in hearing more? Sign up below to get updates on legacy programs happening around the state.
Eugene: Inspiring a Legacy
The City of Eugene is engaging the community and visitors through legacy projects that build off this exciting event and look toward an even brighter future for our community.
The City of Eugene has been gearing up for Oregon22 for many years already with some amazing initiatives to enhance the visitor experience and to increase the quality of life for all residents now and into the future.
The most immediate impact is twenty large and vibrant murals adorning walls and crowning outdoor public spaces across downtown Eugene. Esteemed international street artists were commissioned to paint the "20x21" murals. These creative and eye-catching pieces are both a tribute the athlete's home countries, a gesture of welcome and appreciation, and for Eugene residents, a lasting legacy and remembrance.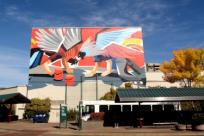 Learn about the outdoor murals being created in Eugene - at least 20 by 2021.…
Learn more ›
In anticipation of 2022 and as a future resource for all events, large and small, the city has partnered with Council for Responsible Sports to draft an event framework guide. By implementing best practices now and in the future, events not only encompass the triple bottom line, they become a transformational force of improvement.
One example of this is the City's "2,021 for 2021" giant sequoias program. An offsetting carbon footprint plan like no other, this tree planting legacy campaign's full impact will be appreciated many years after the dust has settle on the track.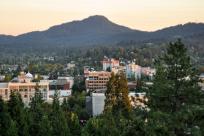 To help offset the carbon footprint associated with the event, Eugene is planting 2,021 giant sequoia trees by 2021.…
Learn more ›
Learn more about the City of Eugene's 2022 legacy projects.
This form is currently unavailable