Florence Adventures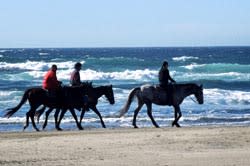 Enjoy easy beach access for beachcombing, kite flying and a variety of ocean sports including surfing and windsurfing. Trancend ordinary when your group enjoys horseback riding together on the beach. Plan a trip to America's largest sea cave, Sea Lion Caves and see as many as 200 sea lions. Or scuba dive in Florence's North Jetty, Oregon's first official scuba dive park. 
Thrill seekers in your group? Sign up for dune buggy rides or go sandboarding at the world's first sandboarding park. Cycle or drive the segment of Highway 101 from Dunes City to Cape Perpetua, or take to the skies for an aerial tour of Oregon's distinctive coastline.
Visit Historic Old Town Florence where the Siuslaw River meets the Pacific Ocean. Here salt-water taffy, antique shopping, and waterfront dining are all top-notch and part of the fun.