MEET & EXPLORE in the Eugene, Cascades & Coast Region of Oregon

Whether you're planning an intimate meeting or a citywide conference, host your next event in the Eugene, Cascades & Coast region of Oregon. The urban Eugene-Springfield metro area is surrounded by stunning natural beauty that will make attending a conference seem like a vacation. The region has 2.5 million acres of forestland with lakes, waterfalls and covered bridges, all for your group to explore and admire.
The Eugene, Cascades & Coast region is so desirable and fun for attendees that conventions and events repeatedly return year after year. Planners know their event will be successful from the moment they arrive. Well known events recently held in the region include International Association of Media and Communication Researchers, International Town and Gown and the upcoming Nation of Makers Conference (NOMCON). 
All major hotels in the area offer complimentary shuttles to and from the Eugene Airport, which is the second-largest airport in the state with direct flights from 15 major cities.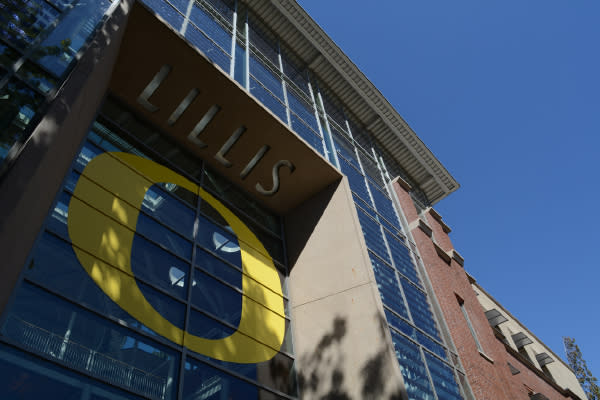 Lillis Business Complex by Colin Morton, Courtesy University of Oregon
Where to MEET
Eugene is a college town, so the University of Oregon is a great place to host an event. The beautiful campus offers a total of 62,000 square feet of flexible meeting space including classrooms, lecture halls, banquet rooms, ballrooms, outdoor spaces and sports facilities. Imagine your event in the ultra-sustainable, silver level LEED certified Lillis Business Complex or in the architecturally dynamic and accessible spaces of the students' Erb Memorial Union. University of Oregon Conference Services' can help coordinate on-site catering, audiovisual equipment and parking.
Another great venue is the Lane Events Center that has 75,000 square feet of versatile meeting space. The center can be rented for large conventions and has several breakout rooms that can also be used for smaller meetings. Catering options are available, and the center offers A/V rentals and technical support.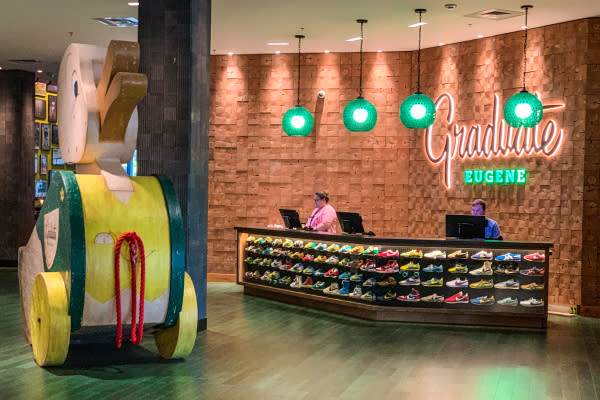 Graduate Hotel Lobby by Melanie Griffin
The Graduate Eugene in downtown is just minutes from the University of Oregon campus and has 289 rooms and suites and 30,000 square feet of meeting space. You'll notice duck motifs and lots of green and yellow throughout the hotel as a nod to the Oregon Ducks. You'll find fun tributes to the region from the artwork to the drink names at the lobby bar. Eugene is the birthplace of Nike and the hotel reception desk serves as a small Nike shoe museum showcasing some of the company's first running shoes. The hotel has several meeting spaces to cater to groups of various sizes. The meeting space on the top floor includes a roof-top balcony that provides a scenic view of the city.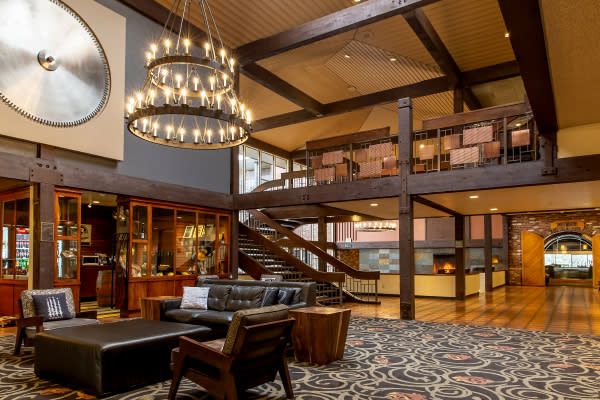 Valley River Inn Lobby Courtesy of Valley River Inn
Another premier hotel is the 257-room Valley River Inn, overlooking the idyllic Willamette River. The hotel has over 15,000 square feet of conference space that includes several ballrooms and breakout rooms. The Rogue Room provides attendees with 180-degree views of the river. Chef-inspired, on-site catering and on-site audiovisual equipment and support are available.
For larger events, check out Matthew Knight Arena that's home to the Oregon Ducks' basketball programs. The arena can seat up to 12,000 and has been host to many large conferences—most recently Living Proof Live with Beth Moore.
Florence, a riverfront coastal town one hour west of Eugene, offers two great meeting venues. Smaller groups will enjoy Driftwood Shores Resort and Conference Center, a coastal getaway that's within steps of the ocean. Your attendees can watch the sunset fade over the water and fall asleep to the sounds of waves crashing. The Conference Center meeting space accommodates up to 125 people and provides a picturesque ocean view. The experienced conference staff will ensure your event runs smoothly and they can help with everything from catering to providing any needed equipment.
For larger events in Florence, consider the Florence Event Center that can host up to 400 in the 7,500-square-feet of convention space or 450 in the theater.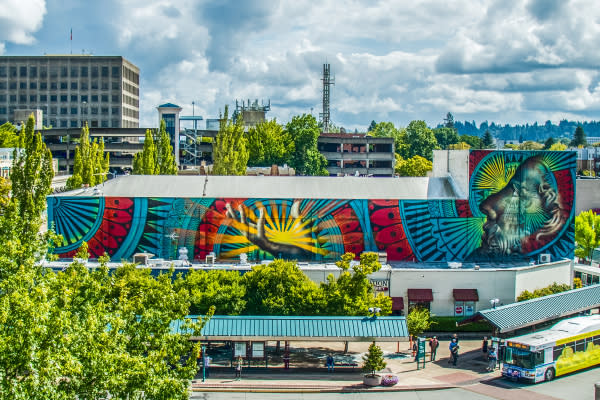 McDonald Theater Mural by Ben Schorzman, City of Eugene
Where to EXPLORE
There are a multitude of unique things to see and do in the region for your group to discover—and there's truly something for everyone.
In the Eugene-Springfield metro area, attendees can explore the vibrant culinary scene, check out the local breweries, ciderhouses and distilleries along the Eugene Tasting Trails, share award-winning wines on the South Willamette Wine Trail or do a group walking tour of the 20x21 Mural Project to discover iconic murals throughout downtown.
To the east is the Cascades mountain range. The thrill-seekers in your group will have a blast riding the rapids whitewater rafting on the McKenzie River or going snowboarding or skiing at Willamette Pass Resort. Others might enjoy a leisurely hike through old-growth forests to see breathtaking waterfalls and clear mountain lakes.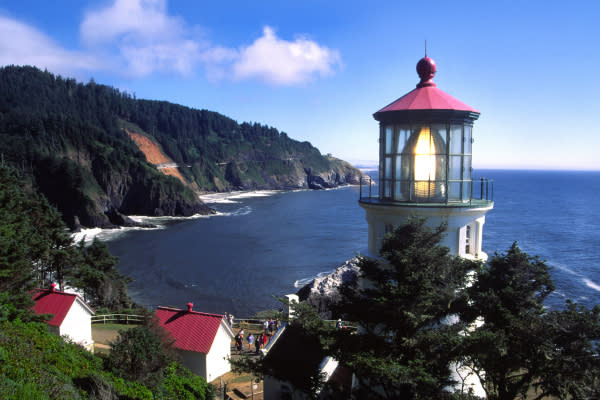 Heceta Head Lighthouse by Jeff Dimmick
Whether your group meets in Florence or elects to head that direction from Eugene, there's a lot of incredible experiences to be found on the Oregon Coast. Your group will make memories they'll never forget while horseback riding at sunset on the beach, visiting the Sea Lion Caves—America's largest sea cave that's brimming with bellowing Steller sea lions, and exploring an Instagram-worthy, 100-year-old lighthouse, the Heceta Head Lighthouse. Historic Old Town Florence is home to many boutique shops and delicious seafood restaurants serving local fare. Thrill-seekers will enjoy a dune buggy ride across North America's largest expanse of sand dunes in the Oregon Dunes National Recreation Area or they can try sandboarding (think snowboarding on sand).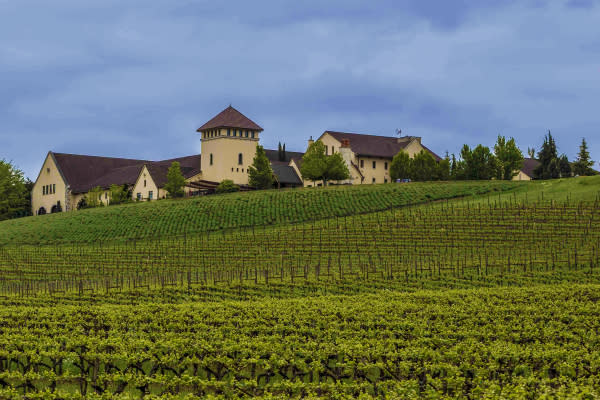 King Estate Winery by Joni Kabana
MEET & EXPLORE
Whether your conference is large or small, the Eugene, Cascades & Coast region has it all—great venues, incredible Pacific Northwest cuisine, world-renowned wine country and natural beauty beyond compare. Come MEET & EXPLORE!