Walk & Bike Friendly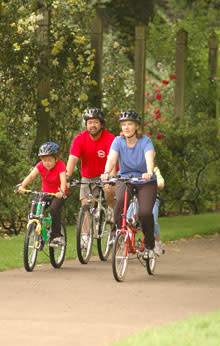 Throughout the Eugene, Cascades & Coast region, an extensive network of walking, jogging and cycling paths connect business centers with riverfront access, parks and residential neighborhoods.
In Eugene, an award-winning public transportation system further strengthens the ease of getting around town. From Business Commute Challenges to Sunday Street events, the Eugene - Springfield area is considered a safe haven for families, the physically challenged and the ecologically-minded. In 2011, a Pedestrian Safety Summit was held in Eugene to explore even more pedestrian and cyclist enhancements. In 2012, Eugene was designated a gold-level "Walk Friendly Community" by the Pedestrian and Bicycle Information Center because of its dedication to pedestrian and all-able accessibility. Because of its walkability, Eugene has been called "a model for communities across the United States."
In Cottage Grove, many businesses display "bike-friendly" decals. The Row River Trail is a popular bicycle route from the historic downtown to Dorena Lake. Also known as the Covered Bridges Scenic Bikeway, this 35.9 mile (57.78 km) ride showcases multiple covered bridges and offers long stretches of family-friendly pathway. Another community where bikes are loved is Oakridge. Considered the Mountain Biking Capital of the Northwest, this mountain town offers exceptional mountain biking trails. With many mountain biking events, a bike shop and a craft brewery, Oakridge is the perfect place for outdoor enthusiasts to gather. 
Continuous regional programs promote the safe sharing and use of community roads, bike lanes, sidewalks, bridges and ramps. In 2012, Oregon became the first state touting official scenic "Bikeways," with three of them in the Eugene, Cascades & Coast region!
Many venues are in close proximity to convention hotels, neighborhood dining, shopping, parks and an abundance of activities. A multitude of meeting spaces provide flexible formats to accommodate individual needs. Furthermore, our convention services staff works with bicycle valets, pedicabs and shuttle services to facilitate delegates' comfort.
With everything from wheelchair accessible sightseeing to miles of paths to its courteous residents, visitors repeatedly discover how easy it is to enjoy the region.