Military Reunions
The Eugene, Cascades & Coast region is the perfect location for your next military reunion! We are honored to have hosted numerous military reunion groups throughout Lane County, and the testimonials from former military members speaks of our success.
We are happy to assist in planning your next military memorial ceremony or reunion. The Eugene, Cascades & Coast region has several military units and veterans of foreign wars that are always willing to help make your reunion memorable.
Whether you fly, drive or take the train, you will find an abundance of natural beauty, affordable guest rooms, free parking, complimentary airport shuttles, tax-free shopping and hotels experienced with military reunion groups.
We want your military reunion in the Eugene, Cascades & Coast region to be unforgettable. We offer a number of special activities to military reunion groups visiting our area.
REUNION SERVICES
Our experienced staff offers a comprehensive array of reunion services and most are complimentary:
Eugene, Cascades & Coast visitor information and maps
Brochures for promotional mailings
Eugene, Cascades & Coast images
Eugene, Cascades & Coast video for presentation
Assistance in finding the perfect hotel
Assistance in finding caterers, transportation, activities and entertainment
Online services including web links and reservations
Bureau speakers assistance
Registration assistance
Registration bags
Name badges
Hospitality rooms
Discount coupons and booklets
Media contacts and local media assistance
Welcome letters from local dignitaries
Suggested Event Venues
Consider hosting your next military memorial ceremonies in the Eugene, Cascades & Coast region. Explore these venues that are all large enough to host your missing soldier ceremony and/or memorial celebration. They are all ADA accessible and can have tents and chairs placed for your ceremony, if you desire.
Military Memorial Ceremonies
Explore all the places you can host your military memorial ceremony when you are in the Eugene, Cascades & Coast region. 
Museums
Have a guided tour at the Oregon Air and Space Museum, catch an air show or attend a themed era dinner and dance. Or journey to the coast and discover the Oregon Coast Military Museum who has a focus on preserving personal stories from our Oregon military veterans.
Group Tours and Activities
Discover all that the region has to offer with a variety of group tours and activities.
Local Military Units & Veterans of Foreign Wars
A number of military units are currently stationed in the Eugene, Cascades & Coast region. In addition, many communities have their own Veterans of Foreign Wars (VFW) Post.
LOCAL MILITARY UNITS
2nd Battalion, 162nd Infantry of the Oregon Army National Guard
Naval and Marine Corps Reserve Training Center, home of the United States Marine Forces Reserve's 6th Engineer Support Battalion, 4th Force Service Support Group
Inspector Instructor Staff Co B – USMC
Three National Guard companies
13 detachment/units from the Naval Reserve
Marine Corps Reserve Bridge Company
VETERANS OF FOREIGN WARS
Coburg VFW Post
Cottage Grove VFW Post
Creswell VFW Post
Eugene VFW Post
Florence VFW Post
Junction City VFW Post
Springfield VFW Post (will arrange barbecues for visiting military groups)
Veneta VFW Post
Veterans Memorial in Springfield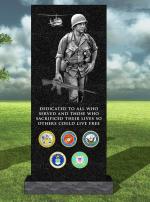 The Veterans Memorial Plaza in Springfield, OR provides space for future military memorials, an area for reflection, assembly and events. This plaza is also home to a Women in the Military Memorial. It is accessible to those with disabilities. Located adjacent to the Willamalane Park, this space is able to handle small to large functions.
Testimonials
See what former military members are saying about their experiences with hosting a military reunion in the Eugene, Cascades & Coast region:
"Eugene was a SUCCESS! All the facets of the diamond sparkled no matter the time of the day, the scene, the weather, the players. In all the years in this industry I have never seen a CVB, a hotel, a community do anywhere near the professional job that you did. Thank you for everything!" - Charlene Adamson, The Reunion Network
"Our people are RAVING about Eugene and Lane County following our national event there! It was an INCREDIBLE experience thanks to Travel Lane County! We can't wait to return!" - Joe Condrill, President, Overseas Brats
"My compliments to you and your staff for making our 25th annual reunion perhaps the best ever!" - Grady Lewis, President, Naval Cryptological Veterans Association
"We couldn't have done it without you!" - Bill Endicott, 33rd Infantry
"We'll never be able to say thank you enough for your support in this reunion. You were the greatest." - Rodger Jacobson, Red Devils Reunion
"…We cannot express in words how much fun we had on this trip…The entire trip was terrific, especially our day at the dunes." - Stan and Lee Prager, USS Warrington DD-843
"In a word….sensational!" - Ron Cohen, The Reunion Network

Juanita Metzler, CMP
Senior Director, Conventions
Juanita secures meeting and conference bookings for the Eugene, Cascades & Coast region. She manages all local and national meeting markets. She specializes in business-to-business relationship building.