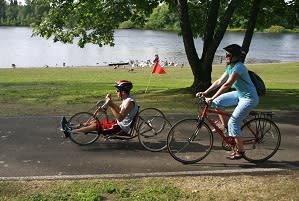 Accessibility can sometimes be a challenge for frequent travelers, as hotels, restaurants or meeting spaces vary when it comes to ADA compliancy, especially with older facilities. The Eugene, Cascades & Coast area has long been recognized as being accessible for all of its citizens, and the city of Eugene has received particular attention for its contributions. Besides being a finalist for the Accessible American Award from the National Organization of Disability, Eugene was named "the most accessible city in the U.S." by the 1997 National American with Disabilities Oregon Celebration Committee.
Local Organizations
We are home to a number of groups and organizations that assist people with disabilities with training and finding employment. Mobility International USA (MIUSA) is known worldwide for empowering people with disabilities to achieve their rights through leadership programs, exchange programs, training, and networking. This non-profit organization has not only helped people in our area with conferences such as the Women's Institute on Leadership and Disability (WILD), but has taken their mission internationally with a number of programs. MIUSA holds intensive preparatory and reentry workshops in Eugene for students with disabilities from more than 50 countries who have been awarded scholarships to study in the U.S. for up to one academic year. These workshops familiarize the students with U.S. culture, teach them about accessible services in our area, and allow them to generate ideas and insights during the reentry workshops before they return to their home country.
Eugene is also home to Pearl Buck Center's Adult Services Program, which offers vocational training through subcontract work, as well as Laurel Hill Center's Pathways Learning Center, which offers classes to help people improve their daily living skills and utilize community resources.
Public Transportation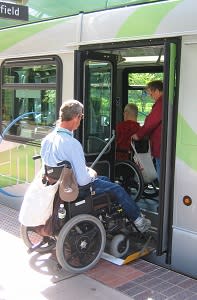 Our public transportation system, Lane Transit District (LTD), can give your delegates the services and products they need to get around our area during an event comfortably and confidently with their EZ Access Program. Every bus is wheelchair and scooter accessible, with ramps, lifts, low-floor technology and secure tie-down systems. Bus operators are fully trained in assisting riders with loading and unloading, and the LTD staff at the Downtown Eugene Station can assist in facilitating transfers between buses for anyone with a disability. All major stops, transfer points and station names are announced for the vision impaired. Platforms for the EmX (LTD's bus rapid transit system) are made of textured tiles so riders know when they are close to the edge. A variety of travel kits are available, including LTD maps and hailing kits to help people with visual disabilities better communicate with bus operators. Service animals are always allowed on the buses, and seats at the front are designated as reserved seating for the elderly or the disabled. LTD also has a 16 member Accessible Transportation Committee that meets once a month to discuss and take action on issues related to accessible public transportation.
Conferences and Events
The Eugene, Cascades & Coast area has been proud to host numerous conference and events with a focus on disability. Since 1969, the City of Eugene Adaptive Recreation Program has worked to improve the quality of life, health, and wellness to citizens of Eugene, and has long been recognized for their excellence in community therapeutic recreation practices. As a result of this incredible program, Eugene was honored to host the National Institute on Recreation Inclusion (NIRI) conference, which brought together experts in the industry to discuss the inclusion process, while providing hands-on learning with workshops and trainings focused on programs for customers with or without disabilities. The attendees included ADA coordinators, recreation directors, educators, and more.
The 2013 NW Conference on Professional Development in Disability Services was attended by 250 participants, who attended sessions ranging from conflict resolution to job development. The U.S. Department of State sponsored EMPOWER Program also made a recent visit to Eugene. Representatives from 38 different organizations and 19 countries learned how we make our city and region accessible, while focusing disability-inclusive diplomacy and establishing partnerships. The participants also created a framework for implementing projects promoting the rights and inclusion of the disabled in their communities.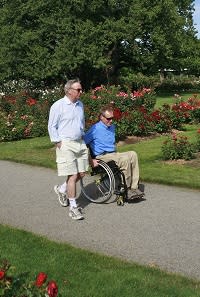 Eugene has long been recognized for its commitment to accessibility
2013 also brought the Seventh International Women's Institute on Leadership and Disability (WILD) to town. Women with disabilities from all over the globe took part in this internationally recognized leadership program designed to build networks of support, create new visions, and strengthen leadership capacity through workshops, activities, and site visits. Participants lived with a local host family during this three week event, allowing even more of our community to be involved.
The Eugene, Cascades & Coast region will continue to be a leader in the services and programs that we offer for the disabled, and we will always be looking for new ways to improve. We understand that event planning can sometimes be challenging when it comes to taking care of the needs of your delegates. That's why we welcome the chance to help you hold your next event in our area, so you can experience one of the most accessible cities in the U.S. first-hand.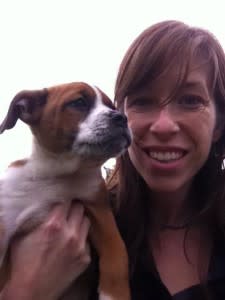 About the author: Jessica Chestnut is the Social Media and PR Manager for Convention and Sports. Although she's only been in Lane County since 2008, there's nowhere else in Oregon she would rather be. She spends her free time exploring the great outdoors, snowboarding, camping, floating the McKenzie, watching college football, enjoying local microbrews and spending time with her husband and puppy.