Last month I had the opportunity to attend a Senior Planner Industry Network (SPIN) Conference in Atlantic City. SPIN is a meeting planners' organization for senior planners of 10+ years experience of planning.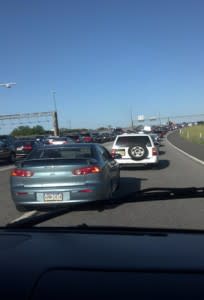 I discovered that you don't just fly to Atlantic City but you shuttle there.
When things go opposite of what you expect, you either fuss about it or go with the flow. The 10 of us in our shuttle from the Philadelphia airport chose to bond during our trip to Atlantic City, in rush hour, during a major league baseball playoff game. We shared who we are, how our business got its name, looked at family pictures and even assisted in providing directions to our shuttle driver. During that two hour drive, the 10 of us became great friends.
I couldn't help but think that these planners need to come to Eugene. Our airport is truly only 15 minutes outside of town and many of the hotels provide complimentary airport shuttle service.
When I travel to the various locations that I am privileged to visit, I always look at what they feature and think about what our region can offer. As a member of the Convention and Visitors Bureau (CVB) we have so many great things to share with you and your group.  One of my favorites was a treasure hunt in downtown Eugene, with the teams identified by tie-dyed scarves on their arms.
Whatever the event, we can help you to find new and creative ways to interact with other attendees and our community. Isn't that part of the reason you select new locations and venues? Come to Eugene, Cascades & Coast… and allow us to turn on the creativity for you.