Note: This piece was written by a guest blogger, Hart Keene, who is one of our members in the entertainment industry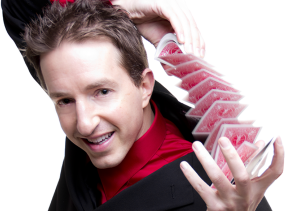 Entertainment is one of the most remembered parts of an event. Guests will remember the entertainment long after forgetting about the centerpieces and the crab cake appetizers (they were good though!). So why has it become an afterthought for so many in the event industry? Why are we not giving entertainment the proper thought and the planning it deserves? Or worse, why are we ignoring it all together? Perhaps you had a bad experience with a Dj playing the wrong music? A comedian telling the "wrong" jokes? Maybe it just doesn't fit in the budget? Or is it simply because the thought of sticking your neck out and vouching for the entertainment sound a little scary?
Even if your client didn't think about entertainment, isn't it your job to know whats good for them? They may not have thought about room layout or AV needs either, but can you imagine not asking them about those basic things? Most clients are not going to think of ways to improve their events, that isn't what they do for a living! So before you go thinking too much about that centerpiece, start thinking outside the box and help your clients create memorable events that standout above all the other events they attend that year.
How do you recommend and help setup the right entertainment? I'm glad you asked, below are a few tips!
1. Know your audience. Just like entertainers, you need to know your audience! Age, race, background, religion, profession, budget, etc. all come into play when you're pairing entertainment with the client. Ask the client if they have had entertainment in the past and find out what worked well and what didn't. I have seen great bands play to an empty dance floor and I have seen donors get up and leave a fundraising event because they were offended by the hired comic. These things could have easily been prevented if the planner had done some homework!
2. Know your entertainment. Have you seen the entertainment in action? Are they the right fit for the group? Does the Dj have an appropriate playlist for this event? Does the motivational speaker talk about topics that the group can connect with? Will the comedian wear jeans at a black tie event? These are all things to consider and why you need to know your entertainment.
3. Know your venue. Does your venue have a decent sound system or does it sound like an '81 boombox? Is there a stage or raised platform available for maximum visibility? How about the lighting? Will there be a dance floor and will it hinder a presenter if it is placed between them and their audience? Knowing what your venue offers to improve the experience can be the difference between good and great.
4. Know your event. Are those oversized centerpieces going to block everyone's view? Will the waitstaff bussing tables during a show be distracting? Will having the band go on at 10 PM on a Thursday night after all the awards and prizes have been handed out be a good idea? These are the types of things to consider when planning the flow of the event and entertainment.
5. Know your timeline. Good entertainment is usually booked up in advance, especially during high times. Would you try to book Madonna a week out from the event? Booking entertainment in advance ensures that you will find the right fit and it will also give the client time to communicate with the entertainment. This allows things to be customized and planned with the client's best interest in mind.
Recommending and helping your clients find the right entertainment can make you a hero, like you "thought of everything". Don't neglect one of the easiest strategies for creating a memorable event, there is always room for entertainment!
Are Your Days Numbered?
Last month I was a guest at a military reunion here in Eugene, OR. The planner had invited Corporate Magician and Mentalist, Hart Keene, to appear and entertain her group. Hart came into the room and changed our concept of magic. He says, "I specialize in highly sophisticated, interactive sleight-of-hand, illusion, and mentalism (psychological illusions). Clients say that I present this unique blend with charm, quick wit, and comedy. Face it, today's audiences are very intelligent and the days of the tired, old magic show with cheesy props and audience humiliation are numbered." As I watched him interact with the audience I wondered about his statement and how it fits into many aspects of life today. Are we still trying to do things the same way we used to? As a convention sales manager, five years ago we would make countless cold calls, introducing ourselves to the person on the other end of the telephone – that's how it was done. Today we spend time researching the business, the planner, and the attendees, before we ever seek an introduction to them. In the past 10 years social media has gone from messaging to part of our everyday lives (Twitter, Face Book, Instagram). I embraced social media and use it as much as possible. If I can stay current with communication, social media, business and personal interaction (no longer two separate worlds) and hold true to who I am, then I am a better person. When I am the best person I can be I offer more skills and experience to you. Hart's final illusion was to have an attendee select a piece of fruit from a folded paper bag and then cut it open. Inside the fruit was a $20 bill with the attendees name on it, signed earlier in the evening by that attendee. I don't know how he did what he did but we were engaged, entertained and glad that we were present.
I want to work with you and your group in somewhat the same way. We will work hard to have you feel engaged, entertained and glad that you were present. We certainly don't want our days to be numbered with you.
* Hart Keene performs at corporate events, colleges, fairs, and private functions all over the country.
Book Hart for Your Next Event!  (CLICK HERE)