Note: This piece was written by a guest blogger, Henrik Bothe, who is one of our members in the entertainment industry.
I am a "Physical Comedian." No, not your regular standup kind of comedian, but a combination of circus skills, magic, and comedy. Imagine Victor Borge being able to juggle.
I love my job. I have been performing for more than 25 years at events in the Pacific Northwest, plus nationally and internationally. I consider my job to mostly be connecting with people and it just so happens that it is in the form of performing my show. However, with each performance there are countless potential obstacles that I may encounter before I get on stage and each of them will have a role as to how well my performance is received. I hope that my advice will make it easier for planners to work with entertainers such as comedians, jugglers, magicians, and hypnotists by recognizing these obstacles.
Timing is crucial. This applies to when the performance starts as well as the length of the show. Opening with a five minute, high-energy performance may work perfectly to set the tone of a convention or finishing with a 45 minute show as part of the Gala evening to close an event. What really matters is paying attention to how much focus you have to give an act. When you start the show is also crucial. Please don't have a performer compete with the dinner. If you are on a tight schedule it's best to wait until everyone has their desserts.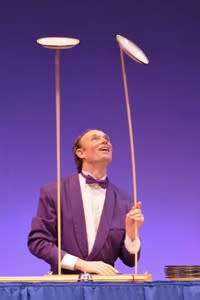 Leave the audience wanting more! If your event includes awards and speeches, it is important to balance the event with the performances and not go too long. A memorable act can really make your event, but if you start the entertainment after too many speeches (when people are either ready to go home or hit the bar) you will not gain the rave reviews you deserve for all your hard work. Less is often more.
Give it the focus it deserves! Nothing can spread an audience out more than the round banquet tables often provided by event centers. If there is a dance floor in front of the stage invite people to bring up their chairs and sit theater style right in front of the stage. That way you get the intimacy of a theater, plus laughter is much more contagious when you are elbow-to-elbow and hear the people laughing right around you. If you must have a dance floor, consider using tables that can be easily removed when it is time for the music. Try to avoid having a large open space between the performer and the audience. It is not something a professional act can't overcome, but it is a obstacle that matters in the overall picture.
A stage is important. Sometimes, an intimate performance given at the level of the guests on the floor is appropriate, but once you reach a certain size it becomes too hard for people in the back to see if you don't have a stage and lights. Sound is also an absolute must when performing. I always carry my own system to use when I perform locally if the house system isn't adequate.
You get what you pay for! Your event is important, and entertainment is one factor where it really pays off to not cut corners financially. Following events where I have performed, the producers often receive compliments on how the entertainment was the best part of the whole evening, but very rarely do people line up to compliment the ice sculpture. As the saying goes, "You pay peanuts; you get monkeys."
I hope it is beneficial to see an event from a performer's perspective. What it really boils down to is that we are all in the same boat. I want to give you the very best show possible, and I want you to receive stellar reviews. Nothing makes me happier than when the client thanks me for doing a fantastic job. It's these little details that can make the difference in how an event is looked at afterwards, and if you and I are asked to do our jobs again.

About the author: Henrik Bothe has performed all over the world, including The Tonight Show and Chinese television.  He spends his time doing his show for corporate parties and teaching a team building workshop, "Learn by Dropping the Ball," and of course enjoying this gorgeous state we live in. Visit Henrik at NW Corporate Comedy and Team Building NW.