Every year, the people, businesses and communities that have made a positive impact on Lane County's hospitality industry are recognized at the Travel Lane County Visitor Industry Celebration. This year's event was hosted both in-person and virtually—a trend for meetings since vaccination rates have allowed smaller in-person groups. Like many meeting planners experienced this year, it was the first hybrid event hosted by our organization and here are a few key highlights and lessons learned.
Make attending virtually easy
In the weeks prior to the event, the link to the streaming broadcast was provided to registered attendees so they could ensure their audio and video were functional prior to the event. Travel Lane County had a staff member monitoring the online chat before the event started to ensure all virtual attendees were able to view and hear the broadcast.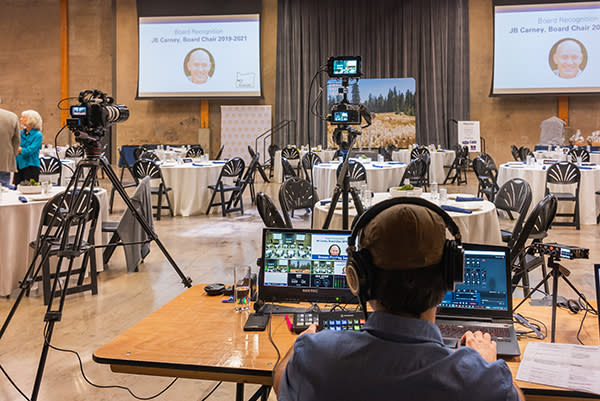 Hybrid Production Setup by Spring Fed Media
Get the right tech crew
Local multimedia firm Spring Fed Media set up multiple cameras and a production control center at the venue the morning of the event. Led by former Travel Lane County employee Michael Sherman and his team, the experienced tech crew made quick work of assessing the room and establishing the best camera positions for the live stream of the event. Having an experienced technical team managing the production is a must-have for hybrid events and we were grateful for their experience, communication and professional gear.
Engage both audiences
While waiting for the event to start, both virtual and in-person attendees watched a slideshow that showcased beautiful natural settings from around the region and acknowledged event sponsors. Those who attended in-person were pleased to have the opportunity to network and see many they had not seen in quite some time. 
In the opening statements, Kari Westlund, President and CEO of Travel Lane County, acknowledged and welcomed both the in-person and virtual audience to the celebration. Equal attention was given to both audiences and the event experience was engaging and inclusive for each group.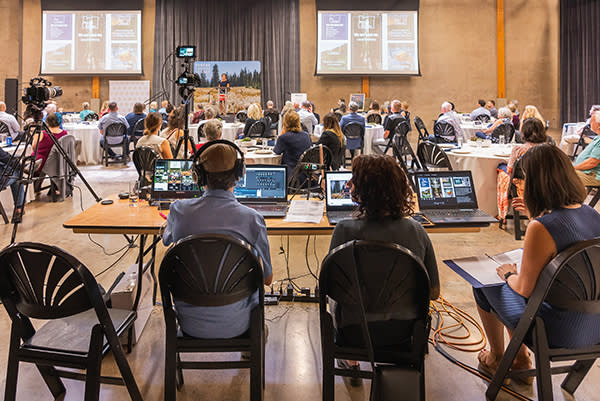 Spring Fed Media and Travel Lane County Hybrid Production
Throughout the presentations, the production team used different camera angles of the speaker and cutaway shots to the room that helped keep the virtual audience's attention and their focus on what was being presented. Live speakers, slide presentations and videos for each award were seamlessly watched in real-time by both audiences.
During the event, all questions and comments from virtual attendees were quickly addressed in the online chat by staff.
Virtual and in-person attendees were entered to win several gift baskets filled with regional goods and offers courtesy of Travel Lane County and their partners. Winners were drawn towards the end of the event and virtual attendees who won were able to pick up their baskets at the Travel Lane County Visitor Center when convenient. All contributing partners were thanked for their generous donations.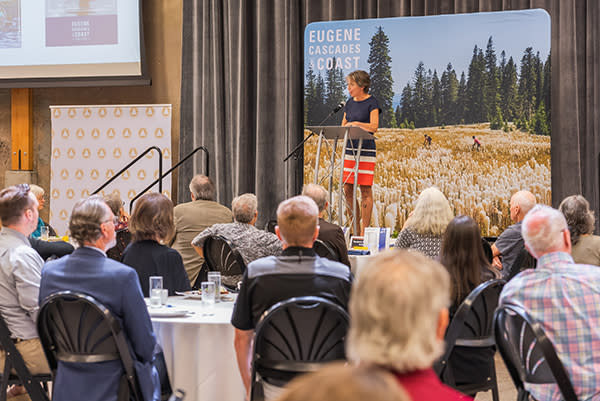 Kari Westlund Presenting
Jobs well done
"It was exciting to come together in-person and virtually to celebrate our region's hospitality partners as part of our 2021 Visitor Industry Award Celebration," noted Kari Westlund, Travel Lane County President/CEO. During the celebration, Westlund was recognized for her 25 years of service at Travel Lane County and given gifts from staff who appreciate her leadership, teamwork and stewardship. 
The 2021 Visitor Industry Celebration's hybrid event was a huge success thanks to the Travel Lane County staff, Spring Fed Media's technical expertise, Attic Media's video production, Venue 252's incredible hospitality, food and service, and most of all our partners who all deserve recognition for helping to make the region such a welcoming and vibrant destination. We appreciate everyone who attended both in-person and virtually and give our heart-felt congratulations again to the award recipients!
2021 Visitor Industry Celebration
View the recording of the entire event.
Award Videos
Presented to a business or individual who, through their efforts, have excelled in promoting the community and the Eugene, Cascades & Coast as a visitor destination.
Presented to a group, business or individual that has significantly contributed to the Eugene, Cascades & Coast region's tourism industry or visitor experience through an advocacy program(s), visitor product(s), or community development.                 
Presented to a local resident(s) or business that is directly responsible for the confirmation of a sports event, which brings in a significant number of overnight visitors to Lane County.  
Presented to a local resident(s) or business that is directly responsible for the confirmation of a meeting or event, which brings in a significant number of overnight visitors to Lane County. 
Presented to a group or organization who exemplifies the effective stewardship of people, resources and the environment.
Tourism Ambassador Awards - All 10 Chambers of Commerce in Lane County
Selected by the local chambers of commerce and presented to an individual or organization who, through their efforts, has excelled in service to Eugene, Cascades & Coast visitors. This award is presented in the full event video linked above at 15:15.