Last week my grandchildren, Reid (10) and Lily (8), along with my son and daughter-in-law, came to Eugene to visit Grammy and Grandpa Mike. This was their first visit to Oregon. Needless to say, I was excited and somewhat panicked. What do they eat now?  What do they like to do? What could we do that would be memorable, meaningful and fun? OK, I admit I was not planning a convention but realized early on there were definite similarities!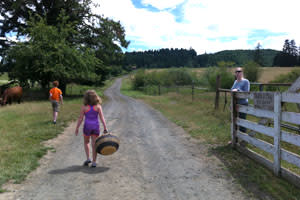 One of the adventures I came up with involved cooking a family meal together using our own version of Chopped. I thought it would be a great way to show the amazing bounty Willamette Valley is known for and what "eating local" in Lane County really means. Since we get our meat and dairy products from Deck Family Farm and vegetables and fruit from Sweetwater's CSA farm, what better activity than to cook a "local" meal  using only ingredients grown and raised at one of those farms.
We began our culinary journey at Deck's farm where the kids got to see cows being milked; collect a dozen eggs; chase pigs, cows and  sheep; and pet puppies. To be honest, I worried my family might get bored walking around a working sustainable farm. Much to my delight, it was a huge success. The kids were fascinated and asked a million challenging questions I got to hear my son answer! Our mystery CSA basket from Sweetwater's Farm was waiting for us on the front porch when we got home.
The process of actually cooking the meal had to be seen to be believed. In fact, I wish now we had videotaped it for America's Funniest Videos. The results, however, were outstanding. Here is what we came up with.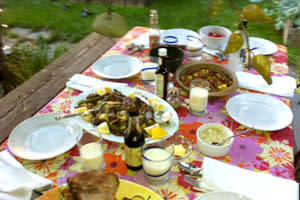 At Deck's Farm we traded milk jars for three large pork chops and a tri-tip steak. My son Aaron rubbed the meat in spices, seared it in duck fat and roasted it in the oven. Collectively, we cooked a kohlrabi by peeling and quartering it, then boiling it until tender and mashing it with butter, Parmesan cheese, salt and pepper. We roasted purple potatoes, garlic, garlic whips, spring onions, apples, lemons, and asparagus tossed in olive oil, salt and pepper, and diced bacon. My daughter-in-law, Amber, made yummy green figs stuffed with gorgonzola, wrapped in bacon and broiled, that were out of this world. I made homemade ice cream using real cream, egg yolks, maple syrup, vanilla and arrowroot, topped with fresh local strawberries for dessert and we had big glasses of cold fresh milk to drink.
According to my grandson, who videotaped each of us telling our recipes, the food was terrific but we all lost Chopped points for presentation since we had to remove the centerpieces the kids made to make way for the food. The overall winner of Chopped went to my son Aaron who was a wizard with meat and the only one who cleaned up after himself. Honorable mention went to Grandpa Mike who figured out how to make homemade butter quickly by putting cream in a mason jar with a few pebbles and shaking it!

About the author: Sue Harshbarger is Senior Convention Sales Manager for Travel Lane County – Eugene, Cascades & Coast. After an adventurous career as a travel agent and in hotel management in Kentucky and on St. Croix, USVI, Sue spun the globe and landed in Eugene. Her hospitality experience, passion for exploration and ability to connect people and topics make her the perfect go-to person when planning an event. She adores concerts, festivals, farmers markets, sustainable farms, cooking, walking, reading, friends, family and her husband Mike.