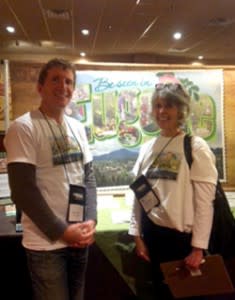 What do neighborhoods have to do with meetings? When you're the 2014 host of the Neighborhoods USA conference, a national meeting for 600+ attendees, everything! I had the pleasure of attending the NUSA Conference in Minneapolis this month as part of the Eugene host delegation. Several members of the 2014 Planning Committee attended, and we also had two neighborhood groups that were up for national awards.
As chair of the Special Events Committee for next year's conference, I was especially interested in what this year's host city had planned. An opening reception with live music, Native American dancing and every sports mascot in the city started the conference off with a bang. The wheels started churning as I envisioned a similarly spectacular kickoff in Eugene next year. Hmmm... The new Ford Alumni Center? Center for Meeting and Learning's spectacular new Downtown Center? The Hult Center for the Performing Arts? An outdoor event at Alton Baker Park? Food trucks? There are almost too many options from which to choose!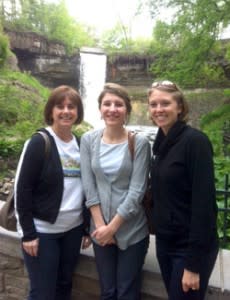 My favorite special event in Minneapolis took place Friday night at Minnehaha Falls. With several food trucks at our disposal, we had fun sampling and comparing choices. The falls were a nice reminder of home - as we also have numerous stunning waterfalls not too far from the Eugene-Springfield metro area.
My favorite overall conference moment? In fact, there were two.
First, when the River Road and Santa Clara Community Organizations placed second in their award category; and when the Harlow Neighbors Association won Neighborhood of the Year for their Feed Hope program. Feed Hope packages and distributes thousands of meals to children in the Harlow neighborhood.
Second, when the Eugene delegation, led by Mayor Kitty Piercy, received the NUSA flag from this year's conference host and took the stage to welcome everyone to attend in Eugene next May.
Our work certainly doesn't end when a group "signs the dotted line" on their hotel contract. We love helping conferences and events plan the perfect meeting in Eugene, Cascades & Coast.