Taking a break before pedaling on to the next brewery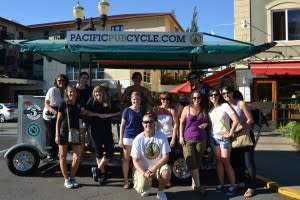 Part of the appeal of attending meetings or conferences outside of your region is participating in activities that are unique to each area. Eugene is known for many things, including our love of bicycles, beers, and anything slightly out of the norm. That's what makes the Pacific Pub Cycle an unforgettable choice for groups visiting Eugene, rain or shine.
The Pub Cycle is a multi-passenger community bike that seats up to 14 people (10 people pedaling, and four that get to relax) Riders pedal around Eugene to take in the sites, as well as celebrate our booming craft beer scene. Some of the Travel Lane County staff recently went for a spin. Read about their trip around town in the Eugene, Cascades & Coast Blog and learn why your group should experience Eugene on the Pub Cycle.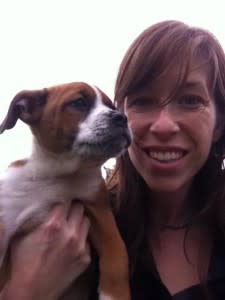 About the author: Jessica Chestnut is the Social Media and PR Manager for Convention and Sports. Although she's only been in Lane County since 2008, there's nowhere else in Oregon she would rather be. She spends her free time exploring the great outdoors, snowboarding, camping, floating the McKenzie, watching college football, enjoying local microbrews and spending time with her husband and puppy.