On a recent site visit with a national planner, I had the opportunity to see a bit of American history at Village Green Resort in Cottage Grove: the pay telephone. While they were quite necessary years ago, we never think of them now. What used to work yesterday is not always what we want to offer today.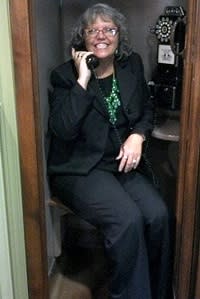 When I hear from a planner that is interested in visiting our locale and determine that they have qualified business to warrant their visit, I begin to dream and plan their time with us. I look to see where they have been, what they have done, and what is different about our community that they haven't seen elsewhere. I also consider the age and the mobility of the group. Does your group need meeting space only and has no plans of venturing outside, or are you looking for up-to-date meeting space along with spectacular tours and activities?
I listen intently as you talk during our time together and quite frankly, I am willing to alter our itinerary if we see something that "perks" with you. The planner that I referred to above was interested in activities that represented a small town feel, so I adjusted our schedule and that's how we discovered the bank of pay telephones. We also learned how to pan for gold, how to recognize a vast variety of non-native tropical flowers, and held different sands from around the world. All of these were found around various locations throughout our county. You just never know what experience will be around the next corner when you visit.
So "Call Me" when you are ready for your site visit to the Eugene, Cascades & Coast region. We are ready to share our community with you.