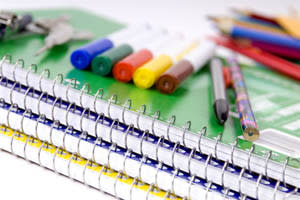 Recently while out shopping for a flower pot I was shocked to discover the gardening section had been replaced by school supplies. It is hard to believe summer is already winding down and kids are gearing up for another school year. It was equally hard to believe it has been 35 years since I walked my last child into a store to buy school supplies.  I had a good chuckle and shed a few tears when I came across the following kindergarten supply list hanging at the end of the aisle.
Kindergarten Supply List
1 package of black dry erase markers 1 box each of quart and gallon size Ziploc bags 3 boxes of crayons (16 pack) Glue sticks (we will ask throughout the year to replenish these) 1 marble composition notebook 1 container of baby wipes 4 2-pocket folders, any solid color pencil case – 5x8x2 Plastic large backpack (no wheels and large enough to hold a folder) Used children's magazines Please send in a snack daily with your child; 1 drink and 1 small snack
We look forward to meeting you soon! From your Kindergarten Teachers
I had no idea picking out my sons first pencil boxes would leave such lasting memories and was surprised to see how, despite new technology, the list hadn't changed very much. It seems we all start in the same place and with a little instruction, and box of crayons, move fearlessly into the future.
For many of you, that future has led to a new scary place called social media. It is important to remember that mastering social media cannot be more frightening than your first day of school, and look where you are now! New skills, like number 2 pencils, just need to be sharpened to be used. That's why we've added a new must-have item to our "Meeting Planner Supplies List" this year: our downloadable Social Media for Meetings & Events: Tips, Tools & Resources guide. Like the gift of a good teacher, the knowledge is free and we hope it will help you.

About the author: Sue Harshbarger is Senior Convention Sales Manager for Travel Lane County – Eugene, Cascades & Coast. After an adventurous career as a travel agent and in hotel management in Kentucky and on St Croix, USVI, Sue spun the globe and landed in Eugene. Her hospitality experience, passion for exploration and ability to connect people and topics make her the perfect go-to person when planning an event. She adores concerts, festivals, farmers markets, sustainable farms, cooking, walking, reading, friends, family and her husband Mike.