Whether you were shoveling, spraying, or tamping, there was a job for everyone during prep time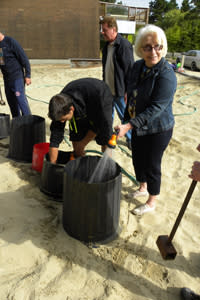 If you're like most people, you probably spend a lot of time staring at a screen each day, whether in the office, at home, or with a cell phone. This makes it more important than ever to step away from our computers and actually interact with our coworkers. Team building exercises are the perfect way to get people out from behind their desks to work together while doing something you enjoy. Our convention sales staff was eager to try working as a team outside of our office, so we headed to Florence on the Oregon Coast this fall for group sand sculpting.
Florence is home to Sand Master Park, the world's first sandboarding park. Stretched out over 40 acres, Sand Master Park is a playground in the sand, with sandboarding (imagine snowboarding but on sand dunes), dune buggy rides, and sand sculpting. Here you will find the largest sandbox in the state of Oregon, destined to take even the most jaded grownup back to their day's carefree days as a kid.
Sand can be a finicky medium to work with, so preparation is important to make it happy, meaning sculptable and standing. The molds are filled with a layer of sand then water (making sure the sand is properly saturated), debris is removed as the water drains, the sand is tamped down, and the process is repeated numerous times until the mold is filled.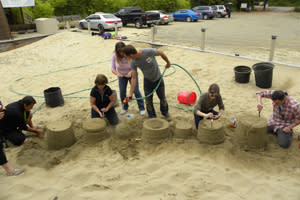 After a few rounds we found ourselves getting into the groove of the process and became somewhat of a sand mold assembly line. Open communication between was the key to minimize downtime, as there were quite a few molds to fill. Before you knew it, the compacted sand was nearing the top of the molds, meaning it was time to carefully remove them and get down to business.
Although we were each creating an individual piece, the connection as a team remained throughout the process, whether it was as simple as passing tools from one person to, or grabbing the hose and making sure your neighbor's pile of sand was just damp enough to keep it upright. You want to see everyone's pile of sand turn out to be a masterpiece, even if you aren't directly sculpting on it. It turns out to be a reflection of our workplace. We work hard to best represent our organization and destination. While our day-to-day in the office may be occupied with what feel like individual assignments, the work that we each contribute reflects upon our organization as a whole. Helping the person next to you with even the smallest task is in some way helping them succeed, which helps everyone succeed. Getting to interact outside of the office also allows everyone to let their hair down, which only strengthens the connections and lines of communication, and can make the time at work even more enjoyable.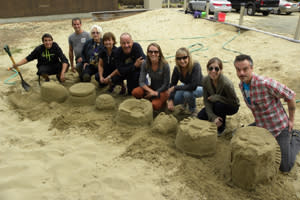 The Eugene, Cascades & Coast staff proudly shows their sand creations, with animals, sports themes, and more
Once our time was up, we stepped back to see how our lumps of sand had transformed in a short period of time. From a castle with a carefully crafted spiral staircase to a cat and even Autzen Stadium (complete with goal posts!), we proudly showed off our creations over plenty of smiles and sandy high fives. While we weren't quite ready to enter the professional sand sculpting circuit, we were proud of our creations and had a truly great time in that giant sand box together.
There are lots of exciting opportunities for team building around the Eugene, Cascades & Coast region. Your team will have a newfound appreciation for how you work together both inside and outside of the office, and will have a blast doing it.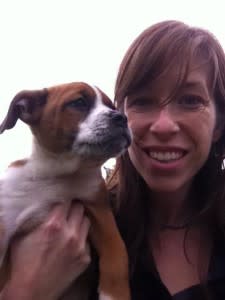 About the author: Jessica Chestnut is the Social Media and PR Manager for Convention and Sports. She's called Oregon home for more than 20 years, and there's nowhere else she would rather be than Lane County. She spends her free time snowboarding, skateboarding, camping, floating the McKenzie, watching college football, enjoying local microbrews and spending time with her husband and their boxer-mutt, Audra.