Eugene is filled with bustling new businesses located in or across the street from the Market Alley at 5th Street Public Market. Here are a few hip businesses that your group should check out while in the downtown area.
FOOD AND DRINK
Alesong Tasting Room - 5th Street
Alesong Brewing & Blending is known for their beautiful countryside brewery and unique, handcrafted beers. If your group is looking for delectable beers but don't have time to make it out to the countryside, consider checking out Alesong's Tasting Room in downtown Eugene. Artisanal beers on the rooftop patio make for an unmatched experience, perfect for any post-conference get-together.
Pfeiffer Winery Downtown Tasting Room
Pfeiffer Winery's reputation is renowned for their exclusive, small-lot, estate-grown and produced on-site Pinot Noir and Pinot Gris sold only through their winery. Now, owners Robin and Danuta host their wines on exotic shores around the world, serving as ambassadors for the heralded New World wines of Oregon. Your group won't want to miss trying some of Pfeiffer's award-winning wines while downtown.
Carlita's Rooftop
Carlita's Rooftop, located on the 7th floor of the Gordon Hotel in downtown Eugene serves up delicious Mexican food with inviting cocktails. What makes Carlita's such a hit is their prime rooftop location. Before heading to the rooftop patio, sleek décor and large windows light up the inside bar area creating an enthralling atmosphere. Carlita's is  an excellent choice for happy hour drinks and appetizers.
Jazzy Ladies Café & Coffeehouse
Jazzy Ladies has been one of the most popular, sought-after dining establishments in Eugene. For years, Jazzy Ladies has been serving up mouth-watering food in their first quaint location all while keeping a consistent line out of the door. Recently, in the fall of 2022, they expanded into an 85-person capacity location in the Market Alley. Still serving up scrumptious favorites like breakfast enchiladas and cava with fresh strawberries, this new location is sure to top foodies' bucket lists. Be sure to check them out across the street from the popular conference hotel, the Graduate, and boutique hotels the Gordon and Inn at the 5th.
Handel's Homemade Ice Cream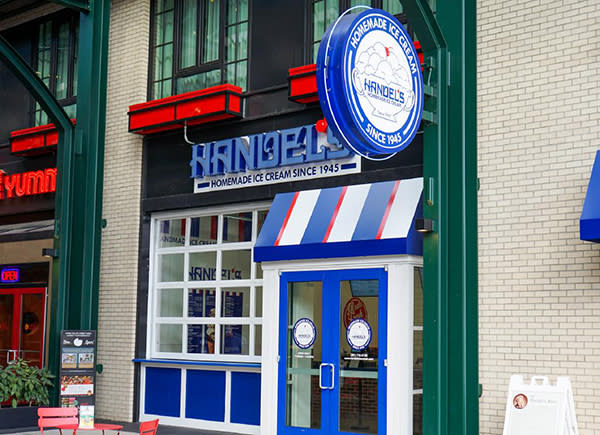 Handel's Homemade Ice Cream opened their Eugene location in 2021 and quickly became a local favorite. For months, long lines of people would wrap around the Market Alley with anticipation waiting to try one of their 45 flavors. It is no surprise that Handel's is doing so well. In addition to their delicious ice creams, they also have their own sorbets, sherbets, ices, and sugar-free ice creams. Handel's is open until 10 p.m. and is sure to cure any sweet tooth cravings.
SHOPPING, SPORTS, AND ENTERTAINMENT
Art with Alejandro
A paint-and-sip is a great team-building activity for groups. At Art with Alejandro, masterpieces are created, and delectable wine is enjoyed. Alejandro's art studio is a wonderful portal into a creative world where everyone is welcome. All skill levels are encouraged to join in on the fun and test their artistic abilities. Pick up a paintbrush and dive into some world-renowned Willamette Valley pinot from Pfeiffer Winery. Private parties can be booked in advance and are curated by Alejandro himself. Party size ranges anywhere between six and 25 guests.
Karin Clarke Gallery at 5th Street Public Market
The second location of the well-established Karin Clarke Gallery is located inside the beautiful Market Alley at 5th Street Public Market. The gallery has a wide collection of accomplished Oregon artists; some of whom are painters, printmakers, photographers, and more. The space may be small and quaint, but the quality of the work exceeds and surpasses expectations. A trip to the gallery is the perfect place to check out before or after a meeting.
Euphoria Chocolate Company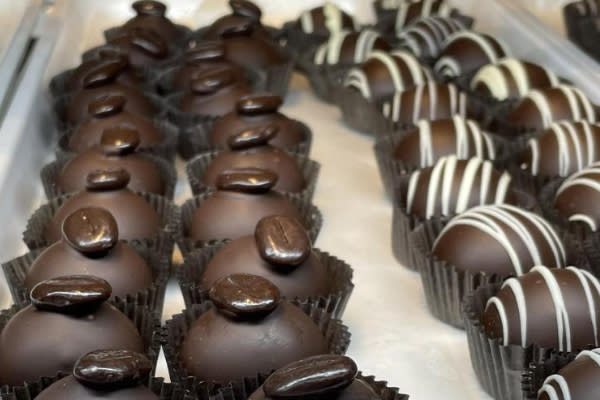 Euphoria Chocolate Company is a popular Eugene chocolate shop that specializes in producing amazing chocolate treats. They offer a wide variety of products including chocolate bars, cookies, sauces, nuts, truffles and many more treats. Their assorted gift boxes and bulk cocoa are both great gifts to take home for family and friends. Euphoria chocolate is hand-crafted by expert chocolatiers ensuring each bite is delicious as the next.
Heritage Distilling Company
Heritage Distilling Company's tasting room serves up spirit flights and cocktails that are made from Heritage's own vodkas, gins, whiskeys, and rums. A large selection of spirits and other products including barware and cocktail kits are for sale in the tasting room. Heritage has an extensive drink menu with plenty of intriguing options ranging from lemon drop cocktail flights to special hot bourbon ciders. This tasting room is a wonderful place to learn about and try new drinks. It is always fun to come with a group and order some flights.
Café Yumm!
Café Yumm! is a household name across the state of Oregon with six locations in Eugene. The newest Café Yumm opened up in the 5th Street Market Alley where loyal Yumm fans can get delicious bowls of rice, veggies, and a protein of their liking. Their famous Yumm! Sauce has been a favorite for over two decades and continually brings customers back. This new location is ideal for grabbing a quick bite before or after a meeting and they offer catering for groups.
Pedego Electric Bikes
Experiencing Eugene by bike has become significantly easier since Pedego Electric Bikes opened. Pedego is a locally owned store that is run by electric bike experts who are ready to pair riders with the ideal fit, size, and shape. Electric bikes are a new and exciting aspect of the cycling world, and their staff is here to assist in that first step getting started. They also offer a private, three-hour guided tour along the Willamette River for those interested in seeing and learning more about Eugene. Pedego offers one-on-one tours as well as tours for groups up to eight people.
Mountain Rose Aroma Bar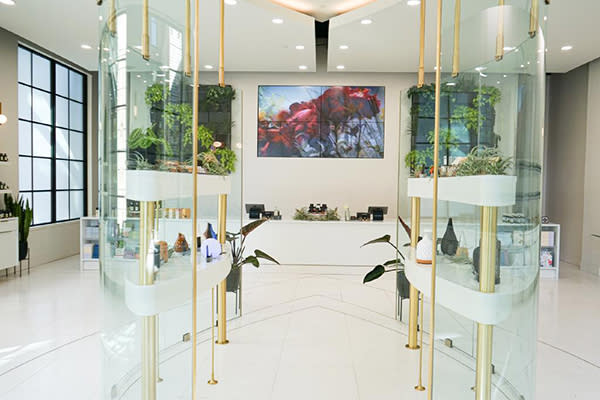 Mountain Rose Aroma Bar is another new addition to the Market Alley where they celebrate ethically sourced botanical oils and waters. Their location is beautifully decorated with charming scents penetrating throughout the bar. They have over 100 varieties of pure essential oils, plus an incredible selection of other products including essential oils, flavored and herbal teas, candles, and more that are the perfect gifts to take home.
COME MEET AND EXPLORE
The Market Alley expansion at 5th Street Public Market has brought many unique and exciting businesses to the Downtown area in the past couple of years. Consider checking out some of these next time your group is downtown.