Mountain Biking
Oregon is a mountain bikers' paradise! Bike Magazine named Eugene as one of their "5 Best Mountain Biking Towns." Exhilarating mountain biking trails are accessible across the region known for its great rides and bike-friendly communities. Mountain bikers are also welcome on many area hiking trails — just be sure to share the trails, stopping and moving aside for horses, hikers and uphill mountain bikers.
Oakridge Mountain Biking
The Oregon town of Oakridge is dubbed "The Mountain Biking Capital of the Northwest," and many avid mountain bikers relish the opportunity to ride its famous trails. The International Mountain Bicycling Association (IMBA) designated Oakridge as a gold-level Ride Center, one of only seven other centers worldwide.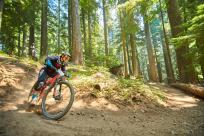 Welcome to "the Mountain Biking Capital of the Northwest." Oakridge earned that title with more…
More

Info

›
MCKENZIE RIVER Mountain Biking
Further north along the McKenzie River, the McKenzie River Trail (MRT) was named one of the best mountain biking trails in the country by Bike Magazine. The McKenzie River region also offers the O'Leary Trail, dubbed an "Epic" trail by IMBA.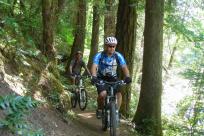 The McKenzie River region is a surprisingly robust mountain biking destination — and especially…
More

Info

›
OREGON COAST Mountain Biking
On the Oregon Coast just south of Florence, the Siltcoos Lake Trail is a fast ride on a singletrack loop. Shared with hikers, this coastal eco-system is rich with wildlife. After a glorious ride, cool off in the lake or enjoy fishing for rainbow trout.
Mountain Biking GUIDES 
Experienced local guides can introduce you to the best trails to match your skill level. Enjoy easy access and worry-free adventures on scenic trails from the mountains to the Oregon Coast with the help of our experienced local guides.
Mountain Biking Events & Packages
BRING YOUR BIKE
Take the Amtrak Cascades train with easy bike transport
Strap it on your RV or car
Check with individual airlines and the Eugene Airport about bike resources
Ship your bike via FedEx or UPS
Coordinate shipping with Bicycle Way of Life in Eugene — they even provide packaging and assembly services
GETTING AROUND BY BIKE
In Oregon, bicycles are subject to laws just like motorized vehicles. Please ride with the direction of traffic, use appropriate signals and obey traffic lights. Remember that bicycle riders under 16 are required to wear a helmet. Please see the Oregon Bicycling Manual (PDF) for more information.