Thru-Hiker Resources - McKenzie-Santiam Pass
Hwy 242 and Hwy 20
Drop down the west side of the Pacific Crest Trail on either Hwy 242 or Hwy 20 to the renowned and gorgeous McKenzie River corridor (Hwy 126). There are many charming lodges, cabins and campgrounds throughout this stretch, which makes it a great spot to meet up with friends and family - or just take a break from the trail.
Services are spread out among the smaller communities of Rainbow, Blue River and McKenzie Bridge. There is a restaurant, post office and general store. Local guides may provide shuttle service to lodging or recreation. Catch a summer celebration from chainsaw art competitions to wooden boat "parades" down the McKenzie River.
At the McKenzie River Ranger District, Lane Transit District bus service #91 connects to Eugene. From McKenzie Bridge, it is just over sixty minutes to the Eugene Airport, Eugene Amtrak train station or Interstate 5.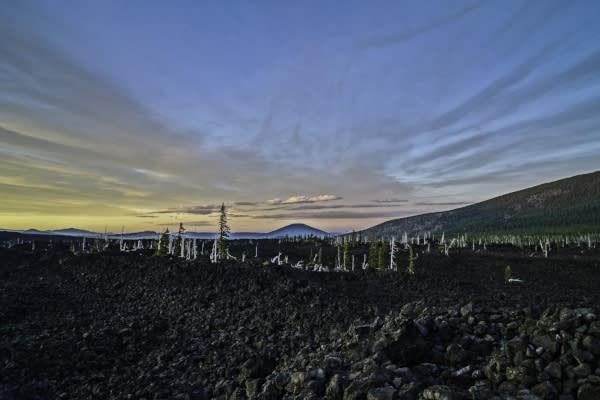 Off Trail Adventures
Visible from the trail, this strange tower of lava rock is a curiosity built in the 1930s.
Soak in a hot spring-fed pool at this riverfront resort. Day passes and locker room with showers.
The McKenzie River is known for thrilling white water. Raft or kayak these famous waters.
Hike or mountain bike the MRT, a 26.5 mile (43 km) path through the lush forest.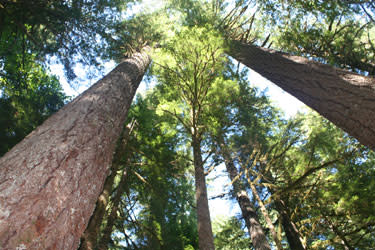 Tree Climbing
Climb 150 feet up into the old growth with a professional guide.
Two breathtakingly beautiful falls with viewing platforms right off Hwy 126.
POST OFFICES
USPS - McKenzie River
91160 McCauley St
Blue River, OR 97413-9737
800.275.8777
Pick up service: Monday - Friday, 8:30 a.m. - 1 p.m. and 1:30 - 3 p.m. Closed Saturday and Sunday
GENERAL STORE & GROCERY
Blue Sky Market 
91808 Mill Creek Rd (MP 47.5 McKenzie Hwy) 
Blue River, OR 97413
Monday - Friday, 6 a.m. - 8 p.m.; Saturday & Sunday, 7 a.m. - 8 p.m.
INFORMATION
McKenzie River Ranger District
57600 McKenzie Hwy
McKenzie Bridge, OR 97413
541.822.3381
Monday - Friday, 8 a.m. - 4:30 p.m.