Willamette River
This river is important to Oregon. The largest cities in the state all sit beside its banks. It flows through farmland and forest with its source waters high in the Cascade Mountains. The Willamette River connects people. Accessing the river by motorboat or paddling vessel is a fun way to experience nature and history.  
There are many ways to enjoy the river. If you don't have your own watercraft, local guides will make sure you see the best the river has to offer. If being on the water isn't of interest to you, find a nice place along the banks to watch for birds and fish on the Ruth Bascom Bike Path which follows the river through Eugene.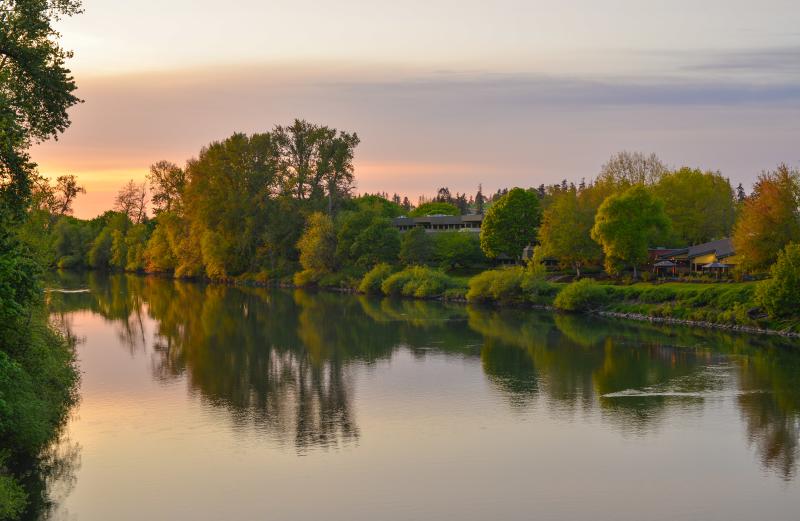 McMenamins North Bank riverside dining by Melanie Griffin

 

Below are some access points and boat launches for your next adventure on the Willamette River Water Trail. Be sure to always carry the appropriate gear onboard and have a valid permit. Keep our waterways clean and Take Care Out There. 

Share the water! Listen for motorboats and paddle closer together in groups when you hear a motorboat approaching. Remember that motorboats need deeper water to safely operate and pass. 
MAP IT
Comprised of 402 acres (163 ha), Eugene's largest riverfront park hosts year-round festivals, running and walking races, and community events. Visitors can enjoy Alton Baker's 230 acres (93 ha) of natural area, a fenced off-leash dog park, Cuthbert Amphitheatre, Pre's Trail, the Nobel Peace Park, and the Eugene Science Center. There is also an 18-hole disc golf course (12 holes during special events). Easy access to the Ruth Bascom Riverbank Path System with a 12-mile (19-km) path. Fish for trout, salmon, steelhead and bass. 2 boat ramps allow for canoe, kayak, SUP, and boating on the Willamette River Water Trail. Wheelchair accessible.
Free maps available at www.eugene-or.gov/parks. 
100 Day Island Rd, Eugene OR 97401

P: 541.682.4800

Book Now
MAP IT
Clearwater Park in Springfield is located on the Willamette River with access for paddlesports, boating, fishing and swimming. (As with all water access, please beware of currents, rapids and other water hazards.) Cycle, run or walk along the four mile paved Middle Fork Path parallel the river, fish from the banks or launch a canoe, kayak, or SUP board from two boat ramps. Paved parking, picnic tables and restrooms.

2400 Clearwater Ln, Springfield OR 97478

P: 541.736.4544

Book Now
MAP IT
A shoreline park with picnic facilities including BBQ stands and fire rings. Grassy lawns slope down to the lake's edge. On any given day sails dot the lake while powerboats cut long lines through the water and rowers slide past the Lowell Covered Bridge. Dexter Lake is known for its fishing, boating, and popular 18-hole disc golf course. This is also the site of many rowing regattas. There is a large parking lot, a boat ramp and dock. Watch for algae blooms which may be harmful to people and pets. An additional boat launch below the dam provides access to the Middle Fork Willamette River, which is suitable for canoes, kayaks, and SUPs.

MAP IT
This 4,700 acre recreation area is the largest of Lane County's 71 parks. Within the park, 17 miles (27 km) of trails provide hiking and horseback riding access to the summit of Mount Pisgah and diverse natural areas. Some trails are steep with rocky terrain but still suitable for both hikers and equestrians. Dogs are welcome leashed on Trails 1 & 2. On all other trails dogs may be off-leash but under owners voice command at all times. The Coast Fork Willamette River can be accessed via the short hiking trails from the northern parking lot. Suitable for canoes, kayaks, and SUPs; but carrying one's boat over uneven terrain is required. DAY-USE FEE AREA/RECREATION PASS REQUIRED
34639 Frank Parrish Rd, Eugene OR 97405

P: 541.344.8350

Book Now
MAP IT
Island Park is located right on the Willamette River and features play equipment, a boat ramp, picnic tables available for rental and an outdoor amphitheater. The park allows access to the river for canoes, kayaks, SUPs and other paddlesports.

200 W B St, Springfield OR 97477
MAP IT
A good boat launch with bank access. At lower water levels, there is some access to less-fished water across the river.

850 Shore Ln, Pleasant Hill OR 97455
MAP IT
The landing off of Cloverdale Rd provides good access to the Coast Fork Willamette River for canoes, kayaks, SUPs and inflatable boats. Located just outside of Creswell, paddle on the river here with scenic natural views. There is a moderate current at the put-in. Fishing spots can be found along the bank. Roadside parking for vehicles.

Cloverdale Rd & Sears Rd, Creswell OR 97426
MAP IT
Whitely Landing County Park provides access to the Willamette River Water Trail for kayaks, canoes, SUPs and other paddlesports. Located less than 8 miles (13 km) from downtown Eugene, this small park is a great location to start or end a day of paddling on the river. Whitely Landing is operated by Lane County Parks and also features picnic tables, a restroom, and limited parking.
Directions: From River Rd, turn east onto Wilkes Dr and then east onto Chapman Dr. Whitely Landing will be on your left just before Chapman Dr ends.
Chapman Dr, Eugene OR 97408

P: 541.682.2000

Book Now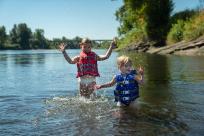 Playing in the water can be the best part of summer — and Oregon's got plenty of the wet stuff!…
More

Info

›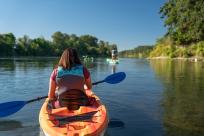 The Eugene, Cascades & Coast region offers many lakes and rivers, even the Pacific Ocean. Explore…
More

Info

›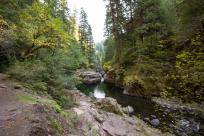 Where can you take a refreshing dip this summer? We asked around and came up with this list of…
More

Info

›

Get a free travel guide