Diamond Creek Falls
Your steep hike down is rewarded with a close up experience of the waterfall.
Diamond Creek Falls is located near Oakridge - Westfir in the Cascade Mountains.
A glittering fan of water glistens over a 90 foot (27.432 m) drop, then falls an additional 500 feet (152.40 m) over a series of tiers considered the Lower Falls.
The 3.2 mile (5.1499 km) loop trail skirts the rims of the Salt Creek and Diamond Creek Canyons, passing the lower falls first and continuing to the upper falls where Diamond Creek spills over. Halfway through the hike a side trail descends to the base of the upper falls for a dramatic look up.
On this hike it's possible to touch the water as it sprays down. Remember to use caution climbing over the giant boulders and loose stones and always be aware that rocks and debris may come over the falls.
In the spring the forest is even more vibrant with blooming rhododendrons.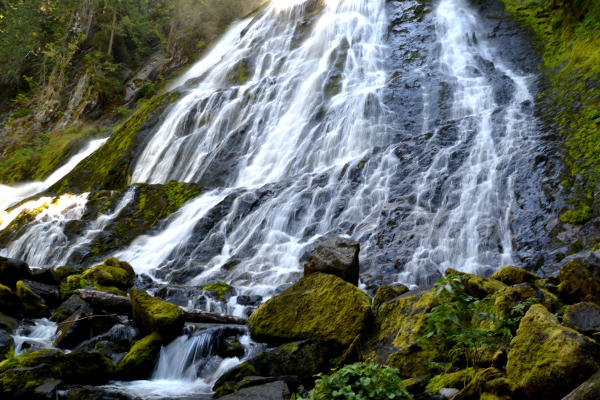 KNOW BEFORE YOU GO 
Access to the Diamond Creek Falls trailhead is from Salt Creek Falls Observation Site's parking lot
Mosquitoes may be pesky in the spring
Willamette National Forest - Middle Fork Ranger District
Day Use Fee Area ($5 a vehicle) or Recreation Pass required. Permits may be purchased at the Adventure Center in Springfield
Facilities closed in winter 
Adjacent the Salt Creek Sno-Park in winter
Connects to Vivian Lake Trail #3662 
Directions: Diamond Creek Falls is 23 miles (37.015 km) southeast of Oakridge and approximately 5 miles (8.0467 km) west of Willamette Pass. From Hwy 58 look for signs to Salt Creek Falls, turn onto FS Road 5893 and follow the Salt Creek signs. Diamond Creek Falls is accessed here.
MAP IT
Get close to this waterfall after a moderate hike in. The veiled Diamond Creek Falls drops 70 - 90 feet (21,3 - 27,4 m), while the tiered Lower Falls drops 200 feet (61 m) and cascades 500 feet (152,4 m) more. Diamond Creek is in the Willamette National Forest. To view the falls, follow Diamond Creek Falls Trail #3598 from the Salt Creek Falls Observation Site. The park's facilities are closed in the winter but it's a delightful trek by snowshoe. Pay station on-site or Federal recreation pass honored. About 23 miles (37 km) southeast of Oakridge. DAY-USE FEE AREA/RECREATION PASS REQUIRED.

Hwy 58, east of milepost 58, Oakridge OR 97463

P: 541.782.2283

Book Now
FUN NEARBY ACTIVITIES
Sip a really good beer at the 3 Legged Crane Pub and Brewhouse, tucked in the mountain biking town of Oakridge.
Soak in the very hot McCredie Hot Springs between mile marker 45 and 46 on Hwy 58.
Add intrigue to the region's hikes by geocaching along the way. 
Explore the Waldo Lake Wilderness. Waldo Lake is one of the clearest lakes in the world. It's a great place to launch a canoe.
If You Like Diamond Creek Falls, You Might Also Like:
Kentucky Falls Trail #1376 showcases three remote waterfalls that range from spring rages to late summer…

Upper Trestle Creek Falls is accessible but Lower Trestle Creek Falls is still inaccessible due to the 2019…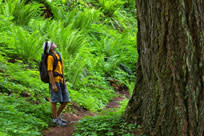 Walk beneath leafy bowers, through ebony lava fields and colorful wildflower meadows.…
More

Info

›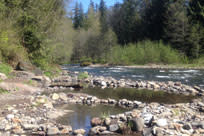 Soak in hot mineral pools with a forest backdrop and the accompaniment of birdsong…
More

Info

›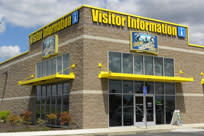 Visitor Information
Get maps, brochures, information and any necessary permits at the Adventure Center in Springfield…

Plan your trip to Eugene, Cascades & Coast.