Frequently Asked Questions (FAQs)
SHORT VISITS 
I only have a few hours in Eugene, what should I do?
Browse downtown Eugene around the 5th Street Public Market and Market Alley. If you are here on a Saturday, April through mid-November, pop by the colorful Saturday Market held at the downtown park blocks. Drive to the top of Skinner Butte for a beautiful overview of Eugene. Behind you is the Willamette River and directly below is downtown Eugene. Look for Willamette Street running south to Spencer Butte. Note the University of Oregon to the southeast. If you have the time, delve deeper with a visit to the University of Oregon campus. Check out the Jordan Schnitzer Museum of Art, the Duck Store or enjoy a self-guided walking tour of UO's buildings, trees and artwork.
Here's our starter kit for first-time Eugene visitors; these seven spots will give you just a…
More

Info

›
What are my transportation options if I don't want to rent a car?
There are many ways to get around Eugene without a vehicle. The Lane Transit District public buses cover Eugene - Springfield's neighborhoods and even connect the region's smaller communities. Or rent a three-wheeler electric car from Arcimoto. And cycling around the region is very easy — just rent a bike!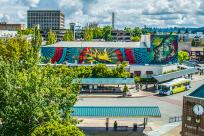 In downtown Eugene you can get from restaurant to theater or shopping to coffee by bike share,…
More

Info

›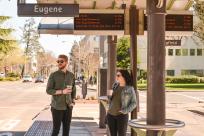 Want to road trip but don't have a car? Explore the region beyond Eugene using public…
More

Info

›
What are my bike rental options in town?
Bike riding is a popular activity in Eugene. For those traveling without bikes there are a few options for rentals. In Downtown Eugene, Bicycle Way of Life offers bike rentals by the hour or by the day. Pedego electric bikes is located at the 5th Street Public Market, and both Bicycle Way of Life and Pedego are close to the Ruth Bascom RiverBank Path System. In addition, the Peacehealth Rides BikeShare system offers ride share stations in downtown and the UO campus for quick commuting.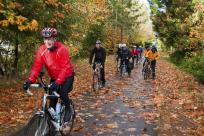 Rent a bicycle to explore the parks or town centers — from bike share programs to electric bikes, find fun ways to get around.…
More

Info

›
Eat & Drink
Where can I find the food trucks?
Eugene offers a variety of food truck trucks and food carts that pop up throughout the region. Since food trucks are mobile, the best way to confirm a specific food truck's current location is by checking their Facebook page — if they have one. 
Often you can find food truck "pods" in metro parking lots or squares, near breweries or urban wineries, at special events and festivals, and out in rural areas by winery tasting rooms or along main travel thoroughfares. Locations like beergarden. and Oakshire Brewing offer food trucks right onsite. Other consistent locations to check include Kesey Square, Olive & W. 8th, the Oregon Wine Lab and adjacent to The Monkey's Paw in Springfield.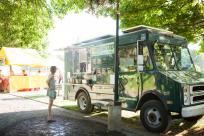 From street tacos to vegan wraps, Eugene's food trucks and food carts offer casual culinary…
More

Info

›
What restaurants or bars are open late?
Your best bets for late night dining are close to the University District or downtown Eugene.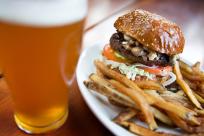 The event has wound down, the show is over, the match complete, the victor declared... but your…
More

Info

›
Where can I eat outside the metro area?
Do not rely on open restaurants in smaller communities, particularly up into the mountains. Many small communities eateries have varied hours. Call ahead to confirm hours and always pack along snacks just in case.
WEATHER
Does it really rain all the time?
It's not as rainy as our reputation. Do travel with a lightweight hooded jacket because rain showers could happen in any season. However, there are many clear days throughout the year and across the region. Often gray days in the Willamette Valley mean sunshine on the Oregon Coast or Cascades and vice versa. The most rain is November through March, but the temperatures are mild. Locals are outside year-round and aren't deterred by the moisture.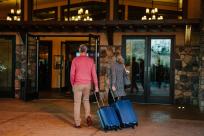 When you are planning a trip, deciding what to pack is very important. While each adventure…
More

Info

›
OREGON COAST 
How long does it take to get to the Coast from Eugene?
Florence on the Oregon Coast is just 61 miles (98.2 km) from Eugene on Highway 126. Travelers should plan on an hour and fifteen minutes depending on weather and road conditions. The drive is beautiful with hikes, waterfalls and covered bridge excursions along the way.
Is there public transportation from Eugene to Florence?
LinkLane provides twice a day transportation from Eugene to Historic Old Town Florence and back. One way is $5. Stops along the way include Veneta, Mapleton and Three Rivers Casino. Buses are bike-friendly, space available.
Pacific Crest Bus Lines offers service from Eugene to Florence and then on to Coos Bay. Drop off is the north end of Florence. Due to the bus schedule, you will have at least one overnight in Florence before a return trip back. The bus arrives in Florence in the evening and departs for Eugene in the morning.
Once in Florence there is the Rhody Express, providing limited service Tuesday - Friday, 10 a.m. - 6 p.m. within town. Their routes do not go to the beach. Bicycles 101 and Guitars offers bike rentals with helmets and locks for $25 a day. They are open Monday - Saturday, 10 a.m. - 6 p.m. The Lighthouse Inn can also assist guests in arranging bike rentals.
I have a day to spend in Florence, what should I do?
Lucky you! Visit Heceta Head Lighthouse and take a guided tour to the top. Descend into the Sea Lion Caves. Explore the sand dunes by dune buggy or sandboard. Ramble the boardwalk in Historic Old Town Florence on the banks of the Siuslaw River. There are many great restaurants here.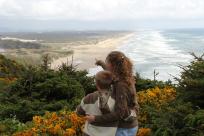 This sample itinerary is designed for the "day tripper." It highlights the most popular, iconic…
More

Info

›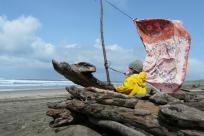 The Oregon Coast is beautiful in all weather. Hike seaside cliff trails with far-reaching views on…
More

Info

›
SHOPPING 
I'm shopping for Oregon souvenirs, where can I find local items?
Find locally-made gift items like beer, wine, logo-wear, UO gear and postcards here
Made In Oregon (at the 5th Street Public Market)
I'm in Eugene and the grocery store charged me for a bag?
Within the City of Eugene there is a ban on single-use carryout plastic bags - this includes grocery stores, department stores, drug stores and clothing stores. Either invest in a reusable shopping bag, usually available at most large grocery stores, or purchase a recycled paper bag at the check out.
Is there sales tax in Oregon?
No, Oregon is one of five states without a sales tax. So have fun shopping!
How do the farm stands and u-picks work?
You may encounter roadside farm stands while you are driving in the country. Many rely on the honor system for proper payment, so please follow any posted instructions and be prepared with exact change. If you are wanting to u-pick from open farms, check-in with the farm or store clerk before heading out into the fields. They can tell you what areas are open for picking.
CANNABIS LEGALIZATION
I heard it is legal to smoke pot. Where can I buy or smoke weed?
Yes, Oregon voters approved a bill to legalize recreational marijuana, however; there are important laws around cannabis transfer and use. You must be 21 years or older and using in public is illegal. Buying and selling marijuana is only legal in licensed cannabis dispensaries. Please "educate before you recreate."
RELOCATION 
I'm thinking of moving here. Can you tell me about the neighborhoods?
While neighborhoods may offer different features, you'll discover that our Eugene - Springfield communities are well-connected with bike paths and excellent public transportation. We recommend you work with a real estate professional to identify your price range and show you available housing.
FAMILY 
I'm traveling with young kids, what kid-friendly activities can you recommend?
The Cascades Raptor Center is a great spot for kids! View hawks, eagles, owls and more up close. 
The Eugene Science Center offers hands on activities for kids and a planetarium.
At the Adventure! Children's Museum kids can get creative with installations like a state park, various countries, as well as building blocks and costumes. 
Splash! is an indoor pool with lap swim, a slide, and a wave pool. A great time for kids and adults.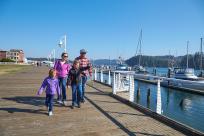 Family-friendly activities include animal viewing, outdoor recreation, escape rooms, activity centers, shows, festivals, markets and more.…
More

Info

›
Travel Interests & Planning
More Questions? Contact our Visitor Center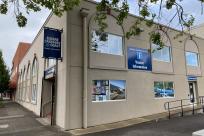 Visit the Eugene, Cascades & Coast Visitor Center in downtown Eugene. Find information on things to do and see in Lane County, purchase park…
More

Info

›