Scenic Viewpoints & Turnouts
Oregon Coast Scenic Viewpoints 
Best Places for Sunsets
Highway 101 along the Oregon coastline is recognized as a National Scenic Byway for its natural beauty and convenient roadside parks and turnouts. Leisurely travel the stretch of highway from Dunes City to Cape Perpetua, stopping to enjoy the panoramic vistas. Some of the parks offer benches and picnic facilities. Popular activities include whale watching, marine wildlife observation and birding, as well as storm watching, sunsets and stargazing! Heceta Head Lighthouse State Scenic Viewpoint is a popular spot for photography on the Oregon Coast.
MAP IT
This park features a beautiful sandy beach nestled at the confluence of fresh water Cape Creek with a historic bridge, the never-to-be-forgotten Heceta Head Lighthouse and several impressive rocks just offshore in the ocean waters. A seven mile network of hiking paths join the short hike to the lighthouse. Sea lions and whales can be seen from the beach and cliff-top lighthouse. The lighthouse keeper's house functions as a museum and bed and breakfast. Easy beach access from the parking lot. Gift shop. This is a must-visit beach. State Day Use Fee area. (Formerly Devils Elbow State Park.)

92072 Hwy 101 S, Yachats OR 97498

P: 541.547.3416

Book Now
MAP IT
Towering trees looming through a coastal fog. Frothy surf crashing upon jagged shores. Majestic headlands offering clear views for miles. Located two miles (3.22 km) south of Yachats, this coastal wonderland - where the forest meets the sea - captivates locals and visitors alike.

2400 Hwy 101, Yachats OR 97498

P: 541.547.3289

Book Now
MAP IT
A cavernous sea cave adopted by a herd of Steller sea lions, some years numbering as many as 200. Take an elevator ride 200 feet (61 m) down into the cave as tall as a 12-story building and as wide as a football field. During the fall and winter barking sea lions lounge around inside the cave's natural amphitheater and during the summer months they sprawl along outside rock ledges with their young. Believed to be America's largest sea cave and the only known mainland home of wild sea lions in the world. Outside paths and viewing platforms. Gift and snack shop.

91560 Hwy 101 N, Florence OR 97439

P: 541.547.3111

Book Now
MAP IT
At Historic Old Town Florence, the Siuslaw River flows under Highway 101's historic Siuslaw River Bridge and into the Pacific Ocean. From the interpretive center view the Siuslaw River Bridge designed by architect McCullough. Learn about the river, its history, the bridge and native plants. Enjoy wheelchair-accessible paths, an observation deck, benches and picnic tables along with wetland foliage.

Bay St, Florence OR 97439
MAP IT
Four pullouts along Hwy 101, known as Gwynn Creek, Neptune, Strawberry Hill and Bob Creek; comprise Neptune State Scenic Viewpoint. Cliffside benches overlook Cumming Creek, the beach and pounding shore break. An excellent vantage point for whale watching, storm watching, birding and other wildlife observations. Sea lions can occasionally be spotted along the shore and deer often visit the creek. Hunt for agates in the shallow creek. At low tide stroll along the beach to the south to see a natural cave and tide pools. Recreation includes fishing and windsurfing. The restroom is ADA approved.

Hwy 101, Yachats OR 97498
MAP IT
Part of the Siuslaw National Forest, the Oregon Dunes cover 40 miles (64 km) along the coast, North America's largest coastal dunes. There are many ways to explore this dramatic natural wonder: by air, foot or off-highway vehicle (OHV). Recreational opportunities include quiet nature trails through vegetation teeming with wildlife, birding, beachcombing, fishing, sandboarding or sand sledding, stargazing and camping. Dune buggy rides with a professional guide are encouraged. Recreation pass required or Day Use Fee. Cash is not accepted. Please purchase online in advance.

855 Hwy 101, Florence OR 97439

P: 541.271.6000

Book Now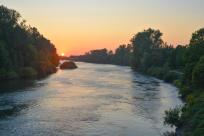 When your perfect day in Eugene just can't end yet, head to one of these top sunset spots and…
More

Info

›
WILLAMETTE VALLEY Scenic Viewpoints
Best places to see the city lights
Right in the heart of Eugene is Skinners Butte - a perfect "lovers' lane" overlooking the city skyline. Drive or hike to the top of the hill for a spectacular 360 degree view of Eugene - Springfield. From here you can see the University of Oregon's Autzen Stadium, Willamette Street pointing direct to the opposing butte - Spencers Butte, and snow dusted mountains ringing the valley.
Other great lookouts require some hiking but the views are fantastic!
MAP IT
This easy one mile (0.6 km) forested trail provides a picturesque view of the Willamette River, Spencer Butte (the surrounding valley's highest peak) and downtown Eugene. There is also a large University of Oregon "O" that is used as a photo opportunity by students and visiting families. There is a parking lot with nearby restrooms located on the north side bottom of the butte. The hiking trail begins across from the parking lot.
An alternative hiking route was recently been added on the west side of the butte, allowing hikers to walk around the basalt columns. On sunny days, many rock climbers go to Skinner Butte to climb the columns. You can also drive to the top of Skinner Butte.
Cheshire Ave, Eugene OR 97401

P: 541.682.4800

Book Now
MAP IT
For the most part, bikes are prohibited on the trails around Spencer's Butte with the exception of the Ridgeline Trail System - a network of over 12 miles (19.3 km). Begin at the trail head on Martin Street and ascend on singletrack through Eugene's south hills.

Martin St, trailhead is on south side of the street east of the playground, Eugene OR 97401

P: 541.682.4800

Book Now
MAP IT
This 4,700 acre recreation area is the largest of Lane County's 71 parks. Within the park, 17 miles (27 km) of trails provide hiking and horseback riding access to the summit of Mount Pisgah and diverse natural areas. Buford Park includes forests, prairies, wetlands, rivers and the mountain summit. Some trails are steep with rocky terrain but still suitable for both hikers and equestrians. Dogs are welcome leashed on Trails 1 & 2. On all other trails dogs may be off-leash but under owners voice command at all times. The Friends of Buford Park & Mt. Pisgah provide stewardship of the area. The Coast Fork Willamette River can be accessed via the short hiking trails from the northern parking lot. Suitable for canoes, kayaks, and SUPs; but carrying one's boat over uneven terrain is required. DAY-USE FEE AREA/RECREATION PASS REQUIRED
34639 Frank Parrish Rd, Eugene OR 97405

P: 541.344.8350

Book Now
Cascade Mountains Scenic Viewpoints
Simply Breathtaking
Driving along Highway 126, Highway 242 or Highway 58 and discover scenic turnouts with beautiful views. From waterfalls to covered bridges, sparkling lakes to snow-capped mountains, the Cascade views include scenic bonuses!
MAP IT
In the midst of a barren lava landscape discover this memorable monument. This historic observatory, built of lava rock, offers stunning panoramic views of Cascade Mountain peaks. There are interpretive panels, a half-mile (0.8 km) paved trail through lava flows, and a wheelchair accessible trail up into the observatory. Hwy 242 access to the Dee Wright Observatory typically closes to vehicles between November and June depending on snow conditions.

Hwy 242, McKenzie Bridge OR 94713

P: 541.822.3381

Book Now

Plan your trip to Eugene, Cascades & Coast.