Back To Previous Page
2nd Annual Oregon Sports Summit is a success
Published: February 07, 2018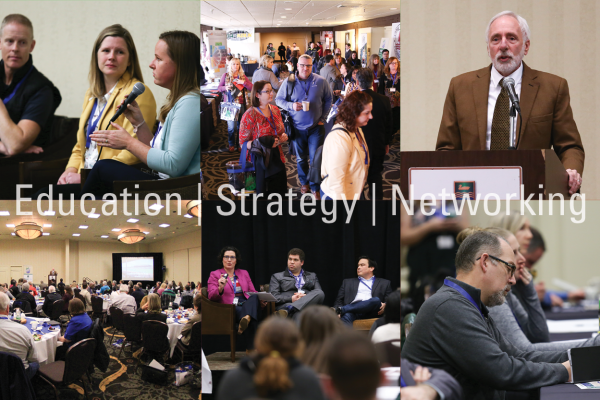 Eugene, Oregon – The Eugene, Cascades & Coast Sports Commission hosted the 2nd annual Oregon Sports Summit, February 2-3, 2018, at the Valley River Inn in Eugene.
Packed with knowledge to inspire both seasoned and new sports event planners, the Oregon Sports Summit was a success! It gave opportunities to network and collaborate with local and regional sports events planners, venue facilities and exhibitors.
Speakers and attendees came from around the United States to hear sessions about the future of sports events & tourism, understanding event data, managing risks of sports events, event medical and more.
Speakers included Al Kidd, President & CEO of the National Association of Sports Commissions; David Higdon, Advisory Board Chair of the University of Oregon's Warsaw Sports Marketing Center; Bev Smith, Executive Director for KIDSPORTS (Eugene, OR); Jeff Gayduk, Publisher at Premier Travel Media; Tom Jordan, Director of the Prefontaine Classic; Michael Reilly, CEO of TrackTown USA, and Sasha Spencer-Atwood, Director of External Affairs at TrackTown USA; and many more. For a full list of speakers see: OregonSportsSummit.com/Speakers
Information about the 2019 Oregon Sports Summit will be announced fall of 2018.
2018 Sessions topics:
Building Sponsorship Proposals
Event Management
Event Permitting
Event Medical and Emergency Staff
The Future of Sports Events & Tourism
Group Housing
Hosting Sustainable Events
How Oregon Small Business Development Centers (SBDC) Can Help Your Team Win
Oregon21
Slips, Trips and Falls: Managing the Inevitable Risks of Any Sports Event
Social Media – Real Time Content
Social Media – Measurement & Analytics
Understanding Event Data
Understanding and Calculating the Economic Impact of an Event to a Community
Utilizing Your Local Sports Commission
Volunteer Management
What Motivates Seniors to Compete?
What Sponsors Want
Working with Facilities
Working with the Media
This event was geared towards those who have ever wanted to run their own sports event. Ideal for new sports event planners and experienced event planners alike. Others who should consider attending: Athletic Directors, Coaches, Booster Club Members, Local Sports Team & League Members, DMO/Sports Commissions, Permitting and Public Safety Agencies, City and County Personnel and Elected Officials.
For more information: OregonSportsSummit.com
Contact:
Janis Ross, Executive Director, Eugene, Cascades & Coast Sports Commission, 541.743.8753; Janis@EugeneCascadesCoast.org
Jessica Shefferman, Director of Event Operations, Eugene, Cascades & Coast Sports Commission 541.743.8765; Jessica@EugeneCascadesCoast.org
Sponsors:
Travel Oregon
City of Eugene
Lane United Football Club
Bicoastal Media
Sinclair Broadcasting
Whova
Oregon Sports Authority
Sports Planning Guide
Central Oregon Community College
Café Moka