Back To Previous Page
Bike Club Targets New Crowd
Published: October 27, 2020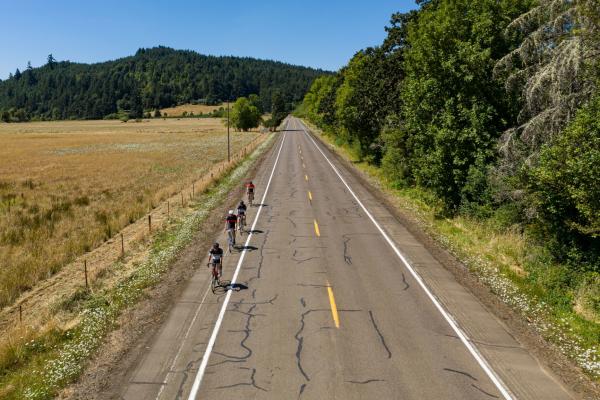 Springfield, Or - Daniel Padilla of Springfield rode his bike some 7 miles every day of his senior year of high school. Like many of us, heading off to college meant Padilla's bike got relegated to gathering dust in a dark corner of the garage. 
Along came COVID-19 and renewed interest in outdoor activities. It was no different for Padilla. An urgency to get out and ride led to a discussion with a friend and it was time to "let the good times roll." 
The Border Boys Bike Club was formed with the stated goal of promoting cycling and the inclusion of minorities, people of color, and other underrepresented groups in the sport. Millions of Americans contribute to a fast-growing outdoor recreation economy, however the number of minorities and people of color participating has lagged. This is partially due to something missing in local cycling. "What's missing in cycling are minority clubs," said Padilla. "It's very dominated by middle-aged, upper-class white men."
With a handful of friends, and friends of friends, Border Boys Bike Club is hoping to build on the founder's passion for cycling while changing perceptions of children who came to the United States from Mexico.  The Border Boys  name addresses a physical and cultural border, but the group intends to bring light to the borders that are being torn down in sports, politics, professional careers and personal hobbies.  "We call that border-breaking," said Padilla.
Utilizing their professional skills, Border Boys members have connected with individuals and businesses to obtain resources that ensures anyone can participate. "The whole cycling community is really behind us," said Padilla. The Border Boys meet in and around Lane County on weekends for 30- to 40-mile rides, usually in the mornings. But more than just a cycling club, the members are part of a supportive community that fosters personal growth and healthy choices. There is no cost to join the Border Boys Bike Club, and all are welcome.
Contact: Daniel Padilla, 541-556-6587, borderboysbikeclub@gmail.com
Full story by Jen Sotolongo - View story>
Border Boys Bike Club Background
Castelli, a centuries old clothing company with amazing cycling wear, has been Border Boys' biggest supporter. Steve Chapin, Castelli marketing director, was the club's first point of contact and believed in the vision - even when it was just a vague idea. Club co-founder Bernardo Cortes, Daniel's best friend for over 10 years and the person who shares his love for cycling, has been involved from the clubs inception and is always quick with an inspirational thought during club rides. Cortes will say things like, "you've worked up and down a vineyard as a 15 year-old, you can bike up this hill!" Padilla notes, "one of the club's missions is to foster a sense of comradery among our members, positive reinforcement and a way to escape our work routine." 
Many members have extensive experience in sales, finance and marketing. Two of our members, Javier Martinez and Max Torres, played collegiate soccer and Padilla ran track and cross country in college. With a membership of all men, Border Boys is actively working to add female members.
Learn about rides by visiting Border Boys on Instagram
View routes by joining Border Boys on Strava