Back To Previous Page
Book Signing Celebrates Hollywood & Oregon's Cinematic Literary Voices
Published: July 12, 2019
Meet Author Katherine Wilson at Thinking Tree Spirits
Eugene, OR - The Eugene International Film Festival and Thinking Tree Spirits (88 Jackson Street) will be presenting a book signing party for "Echoes From the Set" author Katherine Wilson, Thursday, July 18th, 5:30 - 8:30 p.m. Historic movie posters, photographs and descriptive information will be on display.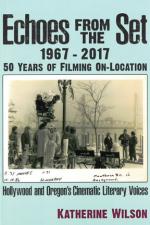 "One Flew Over the Cuckoo's Nest," "Animal House" and "Stand By Me" are among the movies readers will enjoy learning about – behind the scenes with the stars and VIP's.  Oregon film crew members are an important part of the book as well.  Many photographs punctuate the stories told throughout "Echoes From the Set."  Oregon celebrities brought to life by the author include Ken Kesey, James Ivory and Springfield based legislator Richard Eymann. 
Eymann was a film buff, and he wanted movies made in his backyard.  Some were, including "The Way West," filmed in part on Green Island near Coburg, OR.  "The Way West" was packed with star-power and Eugene residents met many of them at local food and beverage establishments.  Some remained friends throughout their lives.
There is much to enjoy about Jack Nicholson.  He has enjoyed making several movies in Oregon, including the famous chicken salad sandwich scene filmed at Denny's Restaurant in Glenwood, OR.  It was a scene from "Five Easy Pieces."  Nicholson's character wanted toast, an item not on the menu.  Imagine his distress.
Emily Jensen, co-owner of Thinking Tree Spirits, is legendary for her distilled spirits, food service and music career.  Stories shared will be the order of the day at Katherine Wilson's book signing party.

"Echoes From the Set" will be available for purchase at the signing party and is on major bookstore shelves nationwide. Purchase online through Amazon or grab a copy the Eugene Airport gift shops.   

Contact: Mike Dilley, 541.683.1400,541.359.7306,
eugenefilmfest@gmail.com