Back To Previous Page
Evolve Across America - First Electric Skateboard Crossing of America
Published: September 15, 2016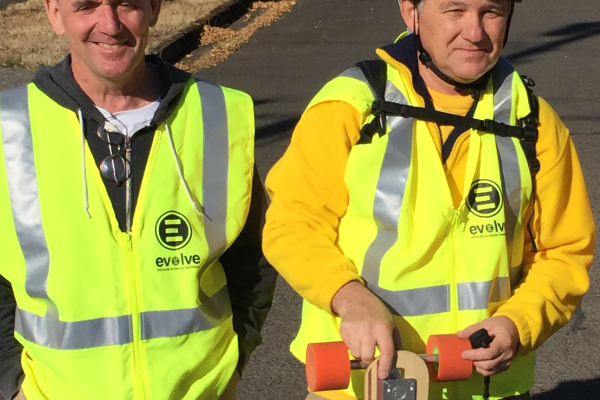 Eugene, Ore. – Today (September 14, 2016) Jack Smith came through Eugene on a historic journey across America.  He will become the first person to ride an electric powered skateboard across America. His journey, which is called Evolve Across America - the First Electric Skateboard Crossing of America - In Support of Board Rescue, is sponsored by Evolve Skateboards, the leading manufacturer of electric skateboards. Jack held a kick-off event at Sand Master Park in Florence on 9/13 and today began his trip from just west of Eugene.  The trip will end in Williamsburg, Virginia.
The ride across America will serve as a means to draw attention to, and raise funds for Board Rescue, a 501(c)(3) public benefit non-profit corporation dedicated to providing skateboards and safety equipment to organizations in the United States that work with underprivileged, at-risk and special needs children. 
Jack, the founder of the Monterey Bay Skate Museum, has pushed a conventional skateboard across America on four different occasions (1976, 1984, 2003 and 2013) and is listed in the Guinness Book of Records. This journey will also mark the 40th anniversary of his first skateboard ride across America. 
Ed Nadalin, former freestyle skateboarding world champion, will serve as the support vehicle driver. Ed is also a professional filmmaker and will document the entire journey. The footage will be used to produce a documentary on Jack's journey.

Photos and two videos from today are available here.  
Related links:
2013 – A Push to Remember – Website
2013 – A Push to Remember – Facebook page
2003 - Skateboarding Across America 2003 - On Board for Lowe Syndrome (Documentary)
1976 – The First Skateboard Push Across America
Sponsors:
Evolve Skateboards
Levis/Dockers
For more information contact: Jack Smith, jack@mbskate.com, 805-610-3565