Back To Previous Page
Fall Foliage and Fun Family Outings
Published: October 14, 2020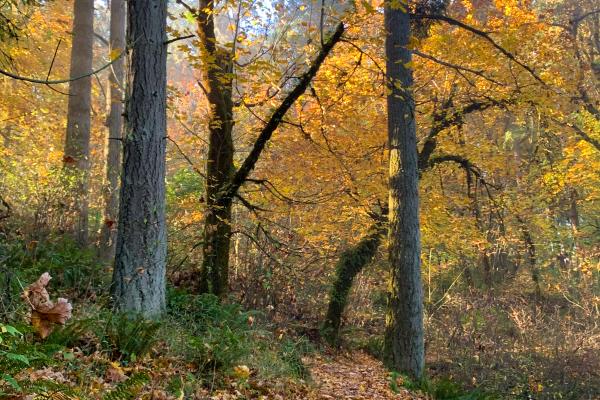 Eugene, OR - Whether it's viewing the spectacular fall colors, tasting a scrumptious baked goodie or finding that perfect pumpkin, fall in the South Willamette Valley provides many options for you and your family to safely explore Lane County.  
We encourage following all Oregon safety and health guidelines when planning your getaway and our partners are doing their part to ensure you enjoy your visit. We are here to help you plan your outing, so give our visitor center a call at 541.484.5307 between 8 a.m. - 5 p.m. Monday through Friday. To inspire you, our staff has developed the following resources:  
Top Things to do This Fall - It's a well-known local secret that fall is one of the best times in the Eugene, Cascades & Coast region. Bright red, orange and yellow leaves contrast against Oregon's signature evergreens, and crisp, cool and sometimes wet days are often matched with an equal number of clear, sunny skies. There's so much to do that simply reading this list will make you feel warm all over. 
A Bakery Road Trip - Indulge in the comforting smell of fresh baked bread along the Willamette Valley's "bakery loop". While gluten-friendly/free options may occasionally arise, this is a tour highlighting good old fashioned wheat.
Fall Foliage Road Trips - Autumn is a wonderful season for road trips. Scenic views are swathed in golden hues, colorful leaves frame roadways, the air is crisp and bursting with woodsy scents, and roadside farm stands are bursting with squash, pumpkins, apples and the last of the summer crops.
Best Bets For Fall Hikes - We've compiled a list of some of the best leafy spots for fall frolics, fall photos and fall hikes. Now is the time to lace up your hiking boots and hit the trail to experience the beauty of fall across the Eugene, Cascades & Coast region. Here are a few of the local favorite spots to visit this fall season.
Heceta Lighthouse Shines Year-round - Close to Florence, the Oregon dunes and the famous Sea Lion Caves, the lighthouse is a must-visit site. Here you can walk on the beach, hike the rocky bluffs, see the hundred-year-old lighthouse and shop in the gift store.
Stay up to date on where fall foliage is popping by following our Oregon Fall Foliage Facebook page and our Oregon Fall Foliage Instagram page.
Pack up the family car and get out an enjoy Lane County this fall. Be safe and follow all COVID guidelines to protect  yourself, your family and those around you.