Back To Previous Page
Finding Your Way Upriver
Published: June 21, 2019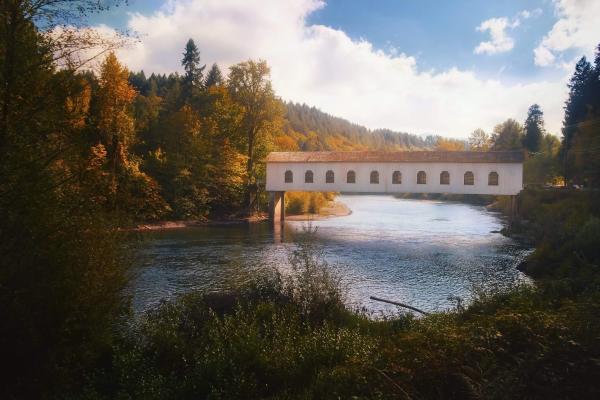 McKenzie River Wayfinding Open House
McKenzie Bridge, OR - Join the McKenzie River Chamber of Commerce and Travel Lane County at the Wayfinding Open House on Thursday, June 27 from 2–4 p.m at the McKenzie General Store.

In this meeting we will discuss wayfinding goals and prioritize wayfinding projects. We invite you to join the conversation! Share your feedback about about wayfinding needs along the corridor and learn about joining the local wayfinding action team.

 If you are unable to attend, please consider sharing your comments using the online survey  
More Fun at the McKenzie General Store!
After the meeting, we encourage you to stay for the McKenzie History Highway Ribbon Cutting & Dedication Party for a celebration of the history of the McKenzie Valley. The party will start at 4 p.m.
Wayfinding Project Background
With the support of Travel Lane County, the McKenzie River Chamber of Commerce is creating a wayfinding plan for the greater McKenzie River Corridor to help address this longstanding need.For over a decade wayfinding has been identified as a high priority project in every McKenzie River corridor assessment. This includes the 2009 Visitor Readiness Report and the 2018 First Impressions Report. 

Why wayfinding?
Designing an effective wayfinding system connects people to places and experiences.
Wayfinding guides visitors to recreation activities like fishing, hiking and cycling and connects people to food, lodging and services.  
It enhances visitor awareness of tourism product and provides tools, like kiosks and bike hubs, that improve visitor experiences.
Increases visitor spending in our rural communities and builds our regional identity.   
What has the Wayfinding Action Team Completed? 
Stakeholder interviews with Lane County, ODOT, the Forest Service, the Oregon Tourism Information Council, local designers and community leaders have supported signage projects throughout the state.
Delivered a project planning survey to the McKenzie River Chamber of Commerce to identify guiding principles.
Conducted two community surveys to identify signage needs. 
For More Information Contact: Bri Matthews, Travel Lane County,  Bri@EugeneCascadesCoast.org, 541.484.5307
Carol Tannenbaum, McKenzie River Chamber of Commerce, CarolTan@Q.com
Event website: https://www.facebook.com/events/436599123589503/