Back To Previous Page
Food Trail Yields Perfect Holiday Gift
Published: November 19, 2020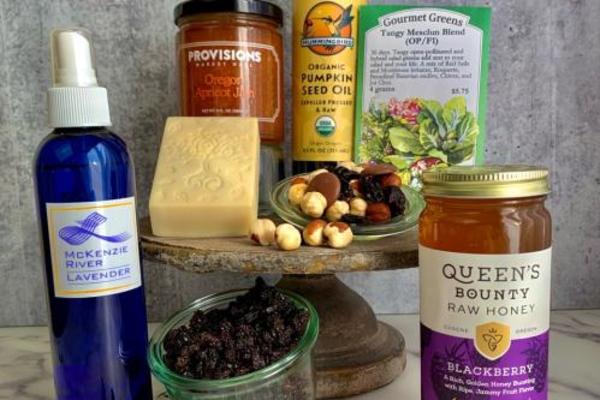 Eugene, Or - Wondering what will make the perfect gift for a loved one or friend?  Well, whether they live locally or across the country, a South Willamette Valley Food Trail Gift Box may fit the bill. 
No longer will you be ridiculed for sending a dreaded fruit cake! The South Willamette Valley Food Trail Gift Box supports our local businesses and is certain to impress your friends and relatives with a variety of local foods and wellness products. To go with your Gift Box, choose a six-bottle selection of white or red wine that includes a variety of local, award-winning South Willamette Valley wine.
Buy an extra box and treat yourself - you know you deserve it after what 2020 has thrown your way!
Thanks to Provisions Market Hall for hosting gift box sales on their website. Order here>  
Each box contains:
Hummingbird Hazel Munch
Provisions Jam—in either Apricot, Strawberry or Raspberry 
McKenzie River Lavender Linen Spray
Oak Song Farm Goat Milk Soap
Organic Redneck Dried Blueberries
Queen's Bounty Blackberry Honey
Hummingbird Pumpkin Seed Oil
Territorial Seed Co. Tangy Mesclun Mix
Contact: Provisions Marketplace, Jessica Blaine, Jessica@marcherestaurant.com ,541-683-2260 x 106
Food Trail Background 
The South Willamette Valley Food Trail  includes over 50 destinations offering unique culinary and agritourism experiences in the South Willamette Valley.
All the stops along the South Willamette Valley Food Trail are committed to thoughtful and sustainable practices. Here are some of the amazing things you can expect: 
Farm-to-table restaurants, artisan products and on-farm experiences that highlight local foods
Hip, rustic and forward-thinking restaurants, bakeries and cafés serving 33% or more local ingredients on menu items 
Places to stay with unique experiences such as farm tours, tastings, dinners or animal viewing
The South Willamette Valley Food Trail evolved from a tourism studio funded by Travel Oregon in 2018. To learn more about this process visit https://industry.traveloregon.com/resources/news-detail/south-willamette-valley-food-trail/