Back To Previous Page
North American Brewing Renaissance
Published: November 07, 2019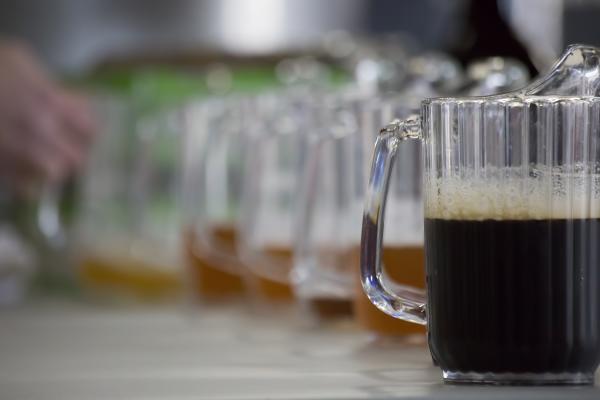 A Eugene International Film Festival Foodie-Film Event
Eugene, OR - The remarkable history of beer is revealed in artifacts thousands of years old discovered in the fertile crescent of the Middle East. Brewpub history is a recent gift to North America from Oregon, Washington, and British Columbia. Credit goes to the Pacific Northwest for the history of craft beer brewpubs.
That history will be on display Thursday, November 14 from 7-9 p.m., with the screening of The North American Brewing Renaissance. This 23-minute documentary will be shown at Falling Sky Pizzeria located on the lower level of the Erb Memorial Union (EMU) on the University of Oregon campus.  

A $5 donation is suggested and Falling Sky will have its amazing selection of craft beers and world-class pizza  available for purchase.

Paul Hadfield, owner of Spinnakers Gastro Brewpub & GuestHouses in Victoria, BC, will headline the event. A second 9-minute film to be shown that evening documents Spinnakers in 1987.  
In Vancouver, BC, John Mitchell became the grandfather of the craft-brewing industry in Canada with the founding of a brewery near his Troller Pub in 1982. Under BC law at the time, a pub and brewery could not be contiguous. When Mitchell and Hadfield became business partners they lobbied for provincial and national laws to be changed.  They succeeded, and Spinnakers opened in 1984 with the brewery and pub in the same building.  It is now the oldest operating brewpub in Canada.  Mitchell passed away at 89 in June of 2019 leaving behind a wonderful legacy.
A bag of Cascade hops circled the earth 128 times aboard the Space Shuttle Discovery in 1982.  Astronaut Bill Readdy, a homebrewer, eventually made the hops available to Spinnakers for a special brew. Cascade hops were developed in Corvallis, OR in 1956, becoming an agricultural success and brewing phenomenon that continues today.
There is no doubt that some of the best beers in America were being made in Oregon by homebrewers long before brewpubs became legal in America.  A chartered tour bus carrying homebrewers from Oregon made a special trip to Spinnakers in 1986. It might be a good guess that some of those homebrewers are now publicans themselves. The first American brewpub, Yakima Brewing and Malting Co., opened in Yakima, WA in 1982.
Homebrewer and filmmaker Mike Dilley saw brewpubs as a miracle in the making and set out to document the unfolding events. He began brewing after a family member gave him a dog-eared copy of Henley's Twentieth Century Formulas, Processes and Trade Secrets.  "Beer" begins on page 118 in this 1942 edition.  If beer doesn't float your boat, there are almost 10,000 other formulas in this book. It is a must-have for Cascadia earthquake survivalists.
The North American Brewing Renaissance will introduce the audience on-screen to the brewers that launched the brewpub experience – from Portland, to Yakima, through Seattle and into Vancouver and Victoria, BC, with other stops along the way.  This is the only known documentary footage of the first brewpubs from that era.  Shot on 16mm film, it premiered at the 1987 Great American Beer Festival in Denver, CO.  A digital restoration in progress will be shown at FallingSky Pizzeria.

Eugene International Film Festival Contact:
Mike Dilley, 541.683.1400, 541.359.7306,  eugenefilmfest@gmail.com
 Research links:
https://fallingskybrewing.com/
https://www.cbc.ca/news/canada/british-columbia/john-mitchell-craft-beer-legacy-horseshoe-bay-1.5185375
www.craftber.com/beer/beer-history
https://www.amazon.com/Henleys-Twentieth-Century-Formulas-Proceses/dp/1849027978