Back To Previous Page
Oregon Wine Country Springs to Life in San Jose
Published: August 28, 2017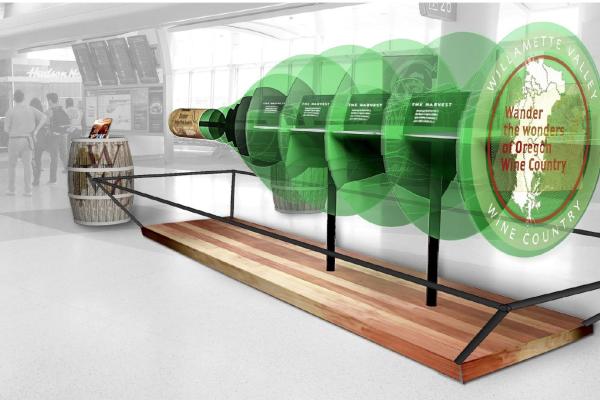 Airport Display Offers Oregon Wine Country Experience!
Eugene, OR — The Willamette Valley Visitors Association and Alaska Airlines today launched an original Oregon Wine Country experience at the San Jose airport. The creative, immersive, impactful display promises to educate, inspire and entertain travelers on the go, and offers a chance to win a four-night adventure package to the Willamette Valley. 
Available for viewing August 28 through September 22, 2017, the massive Pinot noir wine bottle containing a world of miniatures will entice travelers to take a closer look at what Oregon Wine Country has to offer, and perhaps, inspire their next trip. Alaska Airlines now makes it more convenient than ever to visit Oregon with non-stop flights to the Valley's bookend cities, Portland and Eugene, and wines fly free on Alaska.

Eugene Airport Manager Tim Doll noted, "the Eugene to San Jose service began in 2016 and has met our ridership expectations. Promotions like this will certainly give bay area residents another great reason to fly into Eugene."  

"This promotion is in lock-step with efforts of the South Willamette Wineries Association," commented SWWA president  and Walnut Ridge Vineyard owner Jim McGavin. "Our winery display, located near baggage claim in the Eugene Airport, will welcome San Jose guests as they arrive and get their wine country experience started right."

Peek inside the bottle and you'll become immersed in a world of wine unlike any other. First sown by free-thinkers in the 1960s and 1970s, the finicky Pinot noir grape flourished in the Willamette Valley despite conventional wisdom, and now more than 500 wineries call it home. Wine varietals, topography and soil types are highlighted in the display, but travelers will also be delighted by details such as lush landscapes, independent craftspeople, small towns, waterfalls, wildlife and more.

"When San Jose visitors arrive in Eugene we'll provide them our Pinot Bingo passport to guide their wine adventure here in Lane County," says Travel Lane County President/CEO Kari Westlund. "Pinot Bingo is in its second year and the data collected so far confirms that the program is driving a high percentage of first-time visits to area wineries, which is super gratifying!"
 "People are already traveling from all over the world to experience great wine and breathtaking scenery," says Jimmie Lucht, board member of the Willamette Valley Visitors Association, a non-profit organization that supports travel and tourism in Oregon's Wine Country. "We are thrilled to introduce more travelers to the Willamette Valley and offer a glimpse at our wine country, our adventures and this wonderful place we call home."
Willamette Valley: The Willamette Valley, Oregon's leading wine region, has over two-thirds of the state's wineries and vineyards and is home to over 500 wineries. It is recognized as one of the premier Pinot noir producing areas in the world. Other cool-climate varieties such as Pinot gris, Pinot blanc, Chardonnay, Riesling and Gewürztraminer are equally at home in the Willamette Valley.
The Willamette Valley Visitors Association is a private, non-profit organization that supports travel and tourism in the Willamette Valley – Oregon Wine Country. Comprised of six destination marketing organizations, the Willamette Valley Visitors Association works to maintain the Willamette Valley as Oregon's premier wine destination, while highlighting the culture, heritage and natural resources of the region. oregonwinecountry.org 
Contact WVVA: Becca Barnhart: (866) 548-5018, Becca@oregonwinecountry.org