Back To Previous Page
Trails to Outdoor Fun
Published: July 10, 2020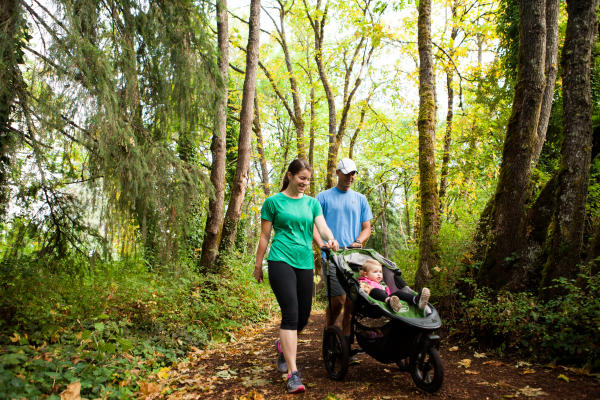 Eugene, OR - Lane County offers more than 4,700 square miles of approachable and enriching outdoor experiences for people of all ages and abilities, so there's no reason to let COVID-19 spoil your family adventures this summer.
Outdoor activities are the safest way to recreate during COVID-19, so let's take a tour of trails in the Eugene, Cascades & Coast region.
Hiking - Finding a trail to hike doesn't require driving miles to a trail head or climbing thousands of feet. Nearby opportunities are all around us and include short hikes like Skinner Butte, medium length hikes like Spencer Butte or the Thurston Hills Natural Area (also provides mountain biking trails) or a variety of longer hikes at the Howard Buford Recreation Area/Mt. Pisgah. 
However, if you're feeling like hiking to a waterfall, reaching a summit that provides views of the Cascades or Coast Range or stopping by bubbling hot springs, then we've got something for you too. Iconic trails, like the McKenzie River Trail, Pacific Crest Trail and Salt Creek Falls, provide enchanting experiences, but can also be crowded. The good news is that there are ways to avoid the crowds along these iconic trails by checking our hiking page or giving us call. There are many beautiful and easily accessible trails that will provide you and your family a secluded trail experience.
For those who just want to show up and hike, Travel Lane County has partners like Cascades Outdoor Center who provide guided hikes, as well as shuttles for cycling.  
Cycling - Paved paths welcome cyclists of all ages, while gravel and mountain biking options are plentiful for thrill-seekers looking to really get their hearts pumping.  Oh, there's also scenic bikeways and other magnificent road cycling options to see miles and miles of Lane County.  For an organized ride be sure to check out the Oregon Gran Fondo and group rides are available through Greater Eugene Area Riders (G.E.A.R.S.).
Eugene-Springfield's extensive paved paths offer views of the Willamette River, provide access to area parks and connect to natural areas where exploration can be expanded to catching butterflies, turtle viewing and birding.  
Cottage Grove's Row River National Recreation Trail is a one of Oregon's designated scenic bikeways. The Covered Bridges Scenic Bikeway is an amazing path that runs from downtown Cottage Grove to Dorena Reservoir and, as its name suggests, provides access to several of Oregon's historic covered bridges. Get some exercise, stop for picnic  and experience some of Lane County's history.   
Running - As the birthplace of recreational running, Eugene has led the way in offering paved paths and bark trails (Pre's Trail & Adidas Oregon Trail), to get out and enjoy these sunny days. But our region is flush with trail running opportunities that include nearby nature trails like the Ridgeline Trail and Mount Pisgah. 
This time of year would typically include many choices to particiate in organized road runs, but COVID-19 put a damper on these community gatherings. Fortunately our area sports event planners are finding ways to offer limited opportunities. The Scandia Run offers a group event in Junction City in August, while you can choose your own route and time to run in a virtual run like the Eugene Emeralds Big Foot Run.
Overnight It - Make your day trip and overnighter. Travel Lane County's lodging partners are offering staycation packages that will stretch your budget. Check this Driftwood Shores staycation package and be sure view additional offerings on our Deals page.
Whatever adventure you choose as part of your summer staycation, please be prepared.  Our Adventure Checklist is available for planning a safe and fun outing and Travel Oregon's Prepare and Care information is another valuable resource for those heading outdoors.