Back To Previous Page
Women Vets Who Made a Difference
Published: September 04, 2018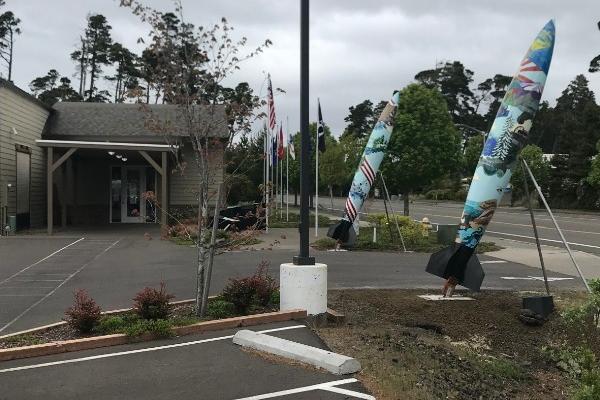 V.A. Traveling Display in Florence
Florence, OR - Veteran's Day is still a couple of months away, but don't delay heading to the Oregon Coast Military Museum to catch the Veteran's Affairs department traveling display "I Am Not Invisible." This display represents a continuing effort to honor military heritage from all eras and all disciplines of service. The Oregon Coast Military Museum is currently focusing on the more than eight percent of Oregon's veterans who are women.
An Oregon Department of Veteran Affairs traveling display, entitled "I Am Not Invisible," is currently on display through September 16th.  It showcases twenty Oregon women veterans from around the state, spanning eras from WWII Navy nurse Jean Wojnowski, who is currently 102 years old, to recent Vets from current conflicts.
The ODVA display compliments the recently expanded permanent display honoring Oregon's women Veterans.  It features multiple uniforms ranging from WWII US Army nurse, Oregonian Connie Van Hoomissen, to the USCG uniform more recently worn by Florence resident Amy Tregoning. Four different uniforms are included in the display, with additional artifacts relating to Van Hoomissen's service.
Rounding out the focus on women veterans is the current oral history interview with Elaine Wright. She served in the Army National Guard from 1987 to 2003, leaving at the rank of Captain. She saw duty in Panama, Korea and the Philippines. While in the Philippines, she trained Philippine army personnel on medical support and how to fight Al Qaeda.

Contact: Cal Applebee |541-999-4175 | cal97439@gmail.com | www.oregoncoastmilitarymuseum.com.
About the Museum: The Oregon Coast Military Museum, located at 2145 Kingwood Street in Florence, is open to the public Wednesday through Sunday from noon - 4:00 p.m.