Eugene Arts & Culture
A City For The Arts
Creative expression is the heartbeat of Eugene. Art pulses through the city's neighborhoods and streets. It might be a formal affair like an opera or symphony or it could be the elaborately painted bus heading to the Oregon Country Fair. Sometimes it blossoms in an artist's home studio and sometimes it explodes as a flash mob in Kesey Square - however art and culture manifests, small or large, quiet or loud - in Eugene there is a lot of it!
Go Eugene
Visually, you can see that this town is far from ordinary. From large, whimsically painted ducks to classic bronze sculptures commemorating Rosa Parks, Eugene Skinner (the town's founder) and author Ken Kesey, a diversity of media gives expression to Eugene.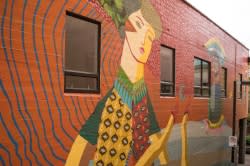 Public art pops up on traffic boxes, sidewalk "parklet" installations or as dramatic murals on the sides of buildings. The 20x21 Mural Project is commissioning 20 world-class murals to be painted prior to the 2021 IAAF World Championships (hosted by Eugene). Every year, the EUGfun program packs the summer with free public events showcasing the community's diverse arts from dance troupes to musicians to film screenings. The city has also been known to display pianos in public spaces, inspiring impromptu concerts by passersby. Why all this love for public art? In 1981, the City of Eugene made a commitment to the arts through the Percent for Art Ordinance which charges local government with the support and development of artists.
Art Hubs
The Hult Center for the Performing Arts houses numerous resident companies including opera, symphony, ballet and concert choir. This performing arts powerhouse also hosts touring headliners, Broadway musicals, radio redux, concerts and comedy. The University of Oregon has strong performing and visual arts programs, as well as being home to the esteemed Jordan Schnitzer Museum of Art and The Museum of Natural and Cultural History. Fresh ideas flow forth from the colleges and community theaters.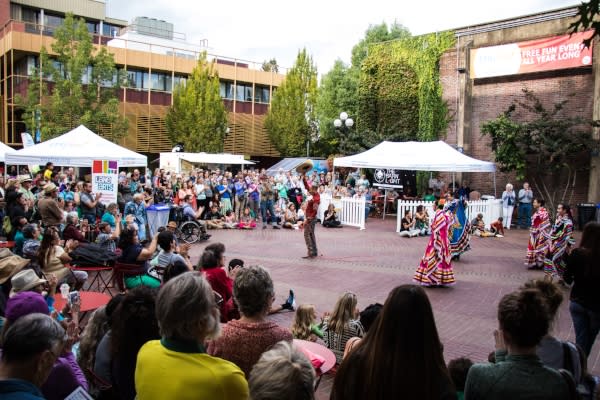 Art Happenings
Eugene attracts a lot of international attention for its many arts and cultural events. The Oregon Bach Festival dives deep into Bach. The Eugene International Film Festival explores independent films and the region's outstanding Oregon Asian Celebration is a vibrant cultural experience that you'll never forget. Each summer, Art and The Vineyard pairs fine art with local wine to benefit the Maude Kerns Art Center. Year-round the Saturday Market showcases hand crafted artistry and the Lane Arts Council sponsors monthly art walks in downtown. Rub shoulders with plein air artists and buskers at markets, craft fairs and celebrations.
Eugene Museums & Theaters