Shuttles, Parking & Pre/Post Game
Free Autzen Stadium Shuttle
One of the easiest ways to attend a women's basketball game at Matthew Knight Arena is by parking at Autzen Stadium and taking the free shuttle. There is no charge to park at Autzen Stadium, plenty of parking, and the free shuttle will drop you off and pick you up at the arena front entrance. Taking the shuttle is the best way to minimize walking and keep clear of game night traffic congestion. Shuttles begin 90 minutes prior to the game until tip off. Fifteen minutes after the game, shuttles start returning to Autzen.
Parking at Matthew Knight Arena
General public parking and ADA parking is $10 and is cash only. ADA parking requires an ADA placard at lots 15 and 37, closest to the arena. (Alternative ADA transportation options may be available depending on eligibility.) The general public parking lots are concentrated between East 15th and East 17th Avenues along Moss Street and require a short walk. Street parking regulations within the neighboring residential areas are strictly enforced and fines are doubled during arena events. If you are seeking street parking, double check the signage as many streets require permits or have time limits. Be prepared for a long walk!
Free bicycle parking stations are available around the arena. Make sure to lock up your bike! When game attendance is high, free bicycle valet is offered.
What Can I Bring into the Matthew Knight Arena?
A clear bag policy has been implemented at Matthew Knight Arena. Fans are allowed to bring one see-through bag no larger than 12"x6"x12".
Please review additional arena policies and updated protocols before the game.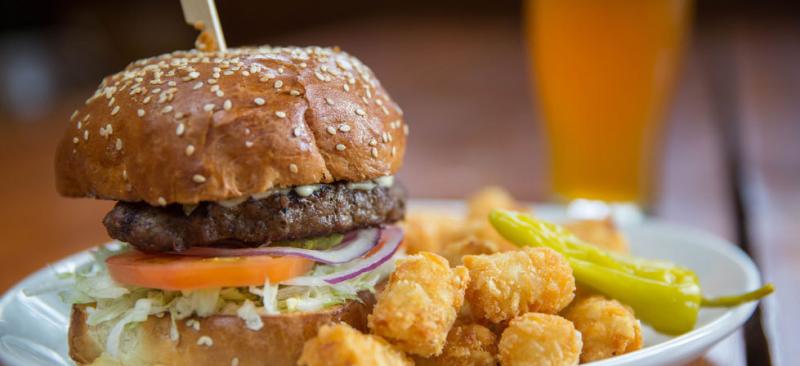 McMenamins Burger & Brew by Kathleen Nyberg
Pre & Post Game Fun
Looking for the best place to eat and drink on game day in Eugene? Try one of these local favorites before or after the game:
The Wild Duck Cafe has really good burgers and pub food along with local craft beer. With sports decor and a fun crowd, this is a must-visit dining destination -- but come early if you are hoping for a seat as it will fill with Duck fans before the tip off!
Track Town Pizza is directly across Franklin Boulevard and has been catering to both families and college students since the late '70s. This is a favorite spot with fun UO memorabilia.
Trev's Sports Bar & Grill is near the general parking lot #58 and features 27 wide-screen TVs and an outdoor patio with fireplace.
On the south side of campus, discover the historic university neighborhood near Hayward Field. Here great dining options include McMenamin's East 19th Street Cafe, Beppe & Gianni's Trattoria and Prince Pucklers.
On the Autzen Stadium shuttle-side of town, stop by The Cooler Restaurant and Bar for some pre-game cheer.