Sports teams receive a warm welcome when they come to the Eugene - Springfield metro area. Hospitality and a welcoming environment are second nature. Learn five ways that InnSight Management Group hotels which include the Holiday Inn, Holiday Inn Express Springfield, Comfort Suites, Residence Inn, Courtyard by Marriott and soon-to-open Hyatt Place, can make your teams stay one to remember.
From youth to college teams, these properties shine when welcoming you.
Welcome Letter
Get a custom welcome letter for your team with directions to the venue as well as restaurants and things to do in the area. It includes everything your team will need from breakfast times to other events that are happening in the city if you have free time to get out.  
Laundry Service
For youth sports, complimentary team uniform laundry service keeps everyone happy (and smelling fresh). Teams drop their uniforms off when they get back from playing and the hotel has them ready to go the next morning.  No one wants to wear a stinky uniform to a multi-day tournament and the parents do not have time to stand around the washer and dryer all night. 
Check In
Make check in easier with a rooming list and an assigned staff member available to help when you get there. With room keys ready to hand out when you arrive, your teams will be ready to play.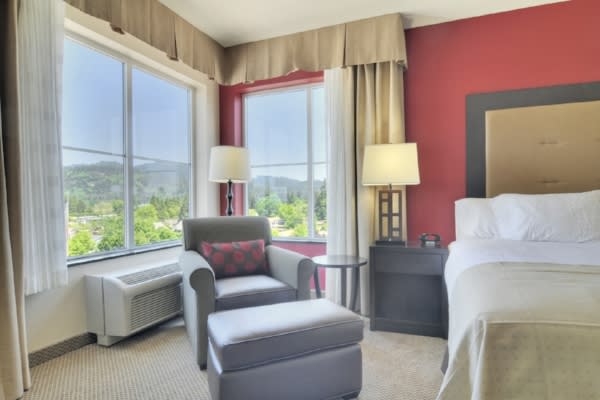 Upgrade
For university teams, a complimentary upgrade to a suite for the Head Coach as well as complimentary meeting space for team meetings and meals.
Cheer Squad
Cheering staff by the doors when the team is leaving to play will get your players ready for the game as they board the bus! What's that you hear? The school's fight song.
With so many ways to welcome your sports teams to the Eugene - Springfield metro area, how can you ever pick a favorite?
*Thank you to InnSight Hotel Management Group for bringing this story to us and for your continued support as a Eugene, Cascades & Coast Sports Commission Sponsor.