Over 1,800 intercollegiate athletes descended on the Eugene – Springfield area over the August 26 -28 weekend. These athletes came from all over the Pacific Northwest, with 50 men's & women's soccer matches and 96 volleyball matches over the weekend. An event this size requires a lot of people to make it a success. That's where the services provided by the Eugene, Cascades & Coast Sports Commission can help your event.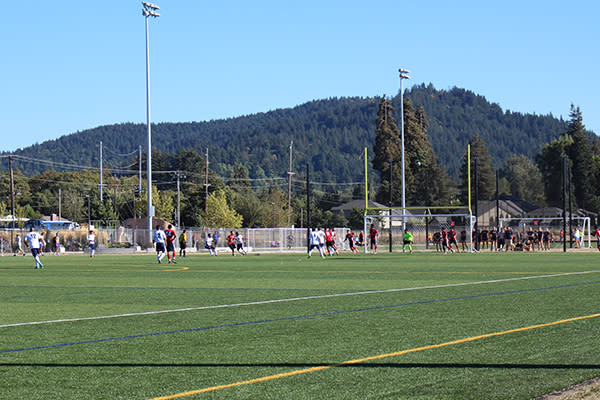 Student-athletes from NWAC were involved in a community service project. This year, member schools donated over 100 backpacks FILLED with school supplies for the McKinney-Vento Program and the Family Resource Center at the Brattain House to pass along to students in the Springfield area, just in time for school to start. This program makes a huge impact on the local community giving youth who are under served or homeless the backpacks donated at this event. We coordinated with the mayor of Springfield to be present when the Brattain House accepted the donation and worked as the liaison to Brattain House to make sure the schools knew the school supplies most needed and used.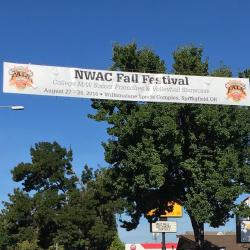 We coordinated with NWAC and Pelada Football Academy to have a concessions stand on-site in order to raise funds for their own local programs.
Because of the partnership between the Sports Commission, NWAC and the support of local sponsors, we were able to get a banner celebrating the event placed over Main St. in Springfield the two weeks prior to the event. 
The NWAC was excited to continue its partnership with Willamalane Park and Recreation District, Eugene Cascades Coast Sports Commission, Lane Community College, and the City of Springfield in this one of a kind of event.
Thank you for making the biggest athletic sporting event ever done by the NWAC a roaring success!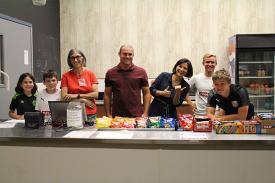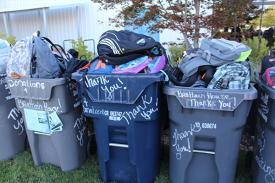 A special thank you to our local sponsors Hilton Garden Inn and Shelton Turnbull.