Can't wait for fall sports? Look no further than the NWAC Fall Festival this weekend at Willamalane Center for Sports and Recreation. This multi-day event will feature 50 men's and women's soccer matches and 96 volleyball matches. Over 1,800 intercollegiate athletes will be participating in what is considered the largest NWAC sports festival ever!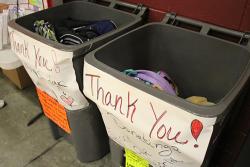 As a way to give back to the community, all major NWAC events involve their student-athletes in a community service project. This year at the NWAC Fall Festival, member schools will be providing school supplies for the McKinney-Vento Program and the Family Resource Center at the Brattain House to pass along to students in the Springfield area.
Marco Azurdia, the NWAC Executive Director says "NWAC is excited to be working with the Willamalane Recreation Center and the Eugene, Cascades & Coast Sports Commission as the event continues to grow. This is definitely the biggest athletic sporting event ever done by the NWAC."
We're excited to see the best teams compete, show their school pride and maybe have some fun in the process. Come out Saturday, August 27 & Sunday, August 28 to see your favorite team play (Go Lane Titans)! Food and activities will be available. Merchandise is being printed on site. 
Volleyball Schedule         Soccer Schedule 
Lane Community College Volleyball
8/27 - 11:30 a.m. - 12:45 p.m on Court 4 ; 3:15 - 4:30 p.m. on Court 7 *both games at Willamalane
8/28 - 10 - 11 a.m. on Court 7; 11 a.m. - 1 p.m. on Court 7 *both games at Willamalne
Lane Community College Women's Soccer
8/27 - 9 a.m. at Lane Community College
8/28 - 8 a.m. at Lane Community College
Lane Community College Men's Soccer 
8/27 - 5 p.m at Lane Community College
8/28 - 4 p.m. at Lane Community College
Tickets will be on sale at both venues for $5 for a day pass and $8 for a two-day pass. Both passes include unlimited access to both the volleyball matches and soccer games. 
Follow the excitement on social media with #NWACFallFestival.