For those chomping at the bit to ski or board Hoodoo Ski Area near Eugene, check out this press release they just sent out: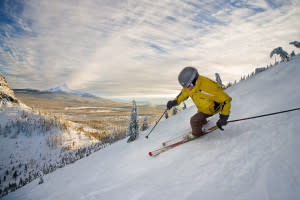 Hoodoo is making preparations to open Friday, February 7th. After receiving four unexpected inches of snow over the weekend, Hoodoo can officially announce the opening of their 2013 - 2014 season. Right now, Hoodoo has a base of about 25 inches and is expected to get more tonight and this weekend. Hoodoo will offer night skiing this Friday and Saturday with lift ticket prices being announced Thursday afternoon.
With the cold temperatures expected this week and the extra couple inches of snow available to harvest, Hoodoo is confident that we will be operating at 100% very soon.
Hoodoo will be open Friday - Sunday this weekend and maintain a Thursday - Sunday schedule until the end of the season or until a lot more snow comes.
The mountain staff is working hard to harvest the snow and place it in the areas needed which are necessary to open. We are working hard to pull more snow off the parking lot and out of the trees to get extra coverage at the top of Ed chair to allow for more skiable area.
Also scheduled for this weekend is the Winter Carnival, but due to the limited coverage we have rescheduled it for Saturday March 1st.
There is still a lot of skiing left in the season as this weekend marks the halfway point, leaving 10 weeks left in the year.
Saturday February 15, Harold the Hodag celebrates his birthday. Enjoy prizes, fire pit on the patio with handmade s'mores, hot chocolate and fun games with Harold himself.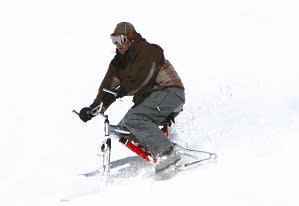 One of Oregon's oldest and most centrally located ski areas, Hoodoo continues to be a popular winter destination for skiers, snowboarders and winter sports enthusiasts throughout the Pacific Northwest. With a base of 4,668 feet, a summit of 5,703 feet and avertical rise of 1,035 feet, Hoodoo offers a fun and challenging environment for skiers and snowboarders of all ages and skill levels.
Since opening in 1938, Hoodoo has evolved into a full-service ski area with more than 800 skiable acres, 30 alpine trails, 15.8 km of Nordic trails, three quad lifts, one triple chair and one double chair. Hoodoo also offers also offers air board, snowbike and snow scooter rentals. The Autobahn — Hoodoo's popular tubing park — has more than a dozen 800-feet runs, 250+ tubes and an automated tube tow. Night skiing is scheduled from 4 p.m. – 9 p.m. on Friday and Saturday evenings beginning Dec. 16, as well as each evening from Dec. 26 - 31 for the winter holiday break.
Hoodoo's spacious lodge includes a rental and repair shop, ski shop, restaurant, full bar, lockers, showers, arcade, dining areas, etc., as well as a large lot with overnight car parking and RV sites (by permit only). Day parking is free for Hoodoo guests and Snopark permits are available for the nearby snow parks. Hoodoo is known for its many, family friendly events and activities, including the annual New Year's Eve party, complete with demos, live music, professional-grade fireworks and night skiing. For a full list of upcoming events, go to the Hoodoo Ski Area Event Calendar, presented by Rockstar Energy Drink, at http://www.hoodoo.com/events.
For more information about daily ski conditions, visit http://www.hoodoo.com or call the Hoodoo Snowphone hotline at 541-822-3337. More specific questions can be answered by calling Hoodoo main office at 541-822-3799