Note: The IAAF World Junior Championships came to Hayward Field June 22 – 27 and brought some of the best young track and field stars from around the world to Eugene. Travel Lane County's Juanita Metzler volunteered at the event and wrote a series of blogs sharing her experiences.
Day 5: It's the next to last day of the IAAF World Junior Championships. I have befriended a Canadian family who are here to support their daughter, Nicole Setterington, in her journey over the 100-meter hurdles. Yesterday she qualified for the semifinals that would be held today. I happened to be recording some footage at the starting blocks area when it was her heat for the semifinals, so I offered a copy of her start to her family. Nicole did not qualify for finals on day six, but her family said to watch for her on TV in the future, as we haven't seen the last of her!
I am at the IAAF World Junior Championships because I volunteered to sell the official programs, which has me constantly moving around Hayward Field. Today I got to visit with Valarie Allman, who became the silver medalist for the U.S. in the discus. She was so excited about her results and her coach kept saying, "We are so proud of her - just so proud of her!" Valarie asked if I wanted to feel how heavy the medal was and yes, it is very heavy, but she was not about to take it off.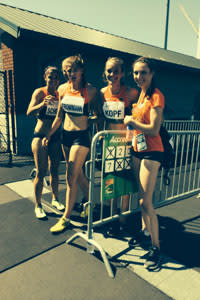 The University of Oregon Global Studies Program drew people into their booth by printing small flags on-site and handing them out for free. Fans were able to choose a flag with the country of their choice and fly it proudly for the rest of the competition
I was getting ready to walk past a team of female athletes from Germany when they were notified that they had medaled. They turned from anxious runners to exuberant young ladies as they jumped, screamed, and hugged each other. It was fun just to be near their energy!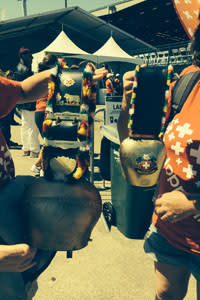 Massive Swiss cowbells made quite a noise throughout Hayward Field!
But the most unusual sight was two women from Switzerland who had brought their Swiss bells along. They each carried these very ornate and quite large cowbells, ready to cheer on their nations' athletes. You could hear these bells all over Hayward Field.
I can't wait to see what tomorrow brings on the final day of the IAAF World Junior Championships. You just never know what will be around the next turn.