Start the countdown and anticipation now! Why, you ask? Well, I'm happy to say we're less than a year out from one of the most exciting sporting events to be hosted in our region's history for its first time. On August 5th, our very own (and much loved) Eugene Emeralds will host the 2014 Northwest League All-Star Game at PK Park. This event brings together the best young talent in minor league baseball from around the Pacific Northwest all for one game and one outstanding event that you will not want to miss.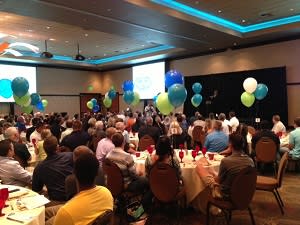 I recently had the opportunity to join members of the front office of the Emeralds while they attended the 2013 NW All-Star Game and festivities held in Everett, Washington. The three day event culminated with the game itself, and included a number of special functions created for players and executives from the teams who make up the Northwest League.
The day before the big game, players attended a Seattle Mariners home game where they were introduced on the field prior to the start. A formal luncheon was scheduled the day of the All-Star Game for team representatives, players, and coaches who were treated to special presentations and guest speakers. For me, it was a great firsthand experience to attend a minor league All-Star Game that was made even more unforgettable because of the staff from the Ems.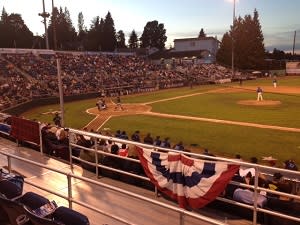 The Emeralds GM Allan Benavides and his staff are a prime example of what's fun and exciting about minor league baseball in our area, and why it's gaining in popularity and continues to be the best family friendly and affordable experience around. Trust me, all the excitement we experience attending a home game at PK Park doesn't happen purely by accident. There's a lot of preparation, consideration, and planning from this group of talented professionals that together create some truly spectacular and memorable events at every Ems game. Throughout the entire three days of this year's All-Star Game in Everett, the Ems staff took significant opportunity to evaluate every detail, consider each option, and brainstorm on all the ways they can make the 2014 event be uniquely Eugene, while always staying focused on creating a great fan experience.
There's no disputing the fact that an All-Star sporting event is an amazing opportunity to see the best of the best competing. Toss in a chance to see a possible future Hall of Famer, or at the very least, know you're watching players who are living out their dream to someday earn a roster spot on a major league team. Not only is it a thrill and honor to be recognized as being an All-Star for these young athletes, but it's also a unique chance to showcase their talents in front of thousands of fans.
We should be proud knowing that our area will be playing host, and also be incredibly excited that the Eugene Emeralds staff are already designing, creating, and dreaming up what will be some outrageously entertaining and memorable for the upcoming 2014 NW League All-Star Game. I'm going to be one of the first in line for tickets… can't wait!

About the author: A way over the top sports enthusiast, Mike is the Sports Sales Manager at Eugene, Cascades and Coast Sports. Arriving in Eugene by way of UCLA, Mike manages to keep his Bruin identity even in Duck country. On top of his position with the Sports Commission, Mike is also the Head Women's Volleyball Coach at Northwest Christian University also located in Eugene. When those rare free moments in his schedule do occur, Mike enjoys running, swimming, and almost any kind of activity or competition that breaks a sweat.