Imagine the red carpet being rolled out for your team; every aspect of your stay from arrival to departure handled with ease. No headache just the fanfare your team deserves. That is exactly what Valley River Inn does for teams staying with them. Whether you're a youth soccer team or a visiting collegiate football team, you will receive the same fanfare. Joey Jewell, Director of Sports Sales & Development, at Eugene, Cascades & Coast Sports Commission had the opportunity to witness firsthand the time and energy that goes into the preparation and delivery of this red carpet experience for the visiting University of Southern California football team. "It's really an opportunity to give athletes that 'VIP' treatment. Whether it's a Pac 12 program or Division III, it's really a neat experience for athletes to have the red carpet rolled out for them," Joey said. "As an athlete, walking into a nice hotel is one thing; walking into a hotel that provides a 'Wow factor' is an experience that they'll always remember."
Upon arrival, the teams are met by the friendly staff at Valley River Inn. With the size of many teams check-ins, the actual keying of the cards and room assignment is done ahead of time. "The process itself was fairly streamlined. Every athlete, coach, administrator and alumni had all of their credentials and passes pre-printed for them and laid out on a table in alphabetical order. There was also plenty of staff viewable in plain sight to help keep the flow of traffic moving and make sure that everyone knew where to pick up their credentials and how to get to their rooms," Joey observed. This allows the athletes to focus on their upcoming games instead of the sometimes tedious aspects of check-in. "The most interesting part was definitely how quickly the process took. To check in more than 100 people, we couldn't have been standing there for more than 15-20 minutes at most."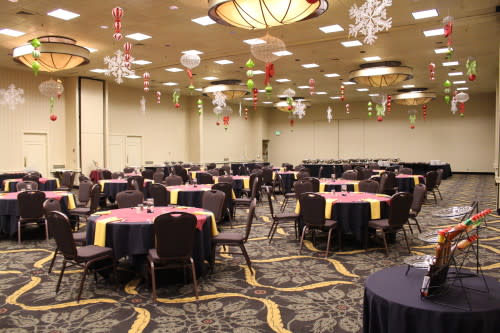 The hotel's conference rooms are done up in the teams colors, adding the additional touch of fanfare that the teams didn't even know they needed. With onsite catering, Valley River Inn is able to cater the different types of banquets and food related events that sports teams require, from the formal banquet to casual team dinners. USC was pampered in this way with tables done up in team colors for a team banquet to complete the ambiance of the room. Many rooms at Valley River Inn were transformed into everything the visiting USC football team could need. A treatment and tape room, a chapel, a news room and a room for coaches meetings, to name a few.
These were all done up to perfection by the team at Valley River Inn. In the past few months, Valley River Inn has played host to many sports teams, including the Cascade Collegiate Conference (CCC) Soccer Tournament held at Willamalane hosted by Northwest Christian University.
Valley River Inn is an ideal place to let your team (or teams) absorb the fanfare that they deserve but don't always receive. "Again, it goes back to the 'Wow Factor' and going above and beyond to treat everyone special," and that is exactly what the sales team with Eugene, Cascades & Coast Sports Commission wants your event to have. Let our sales team assist in getting your next sporting event off the ground here in the Eugene, Cascades & Coast region.
Joey Jewell - Director of Sports Sales & Development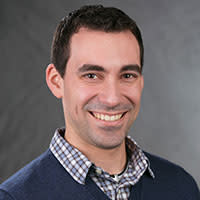 Phone: 541.743.8757 Email: Joey@EugeneCascadesCoast.org LinkedIn: linkedin.com/in/joey-jewell-47820240
*Thank you to Valley River Inn for bringing this story to us here at Eugene, Cascades & Coast Sports Commission and for your support as a Platinum Level Sponsor.