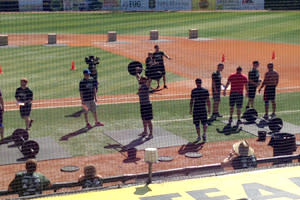 I've done Olympic weightlifting for about five years and like to consider myself one tough cookie. Friends of mine have encouraged me to try CrossFit, insisting that "you'll love it," but I've been somewhat skeptical. I like what I do. I lift and I run.
When the Eugene Emeralds announced earlier this year that they were planning a regional CrossFit tournament called Sasquatch Throwdown, I was admittedly intrigued. It sounded like fun, but a bit hardcore. When the event came to town August 17-18, I decided to check it out.
The location of the competition, PK Park, was a stroke of genius! As the home of the University of Oregon Ducks as well as the Eugene Emeralds minor league baseball team, it offered lots of complimentary parking, a beautiful new baseball stadium, great concessions, and hundreds of CrossFit enthusiasts. The events took place on the field, with great spectator vantages from the bleachers. It was a beautiful, sunny day - almost too beautiful and sunny, and I felt for the competitors out in the hot sun.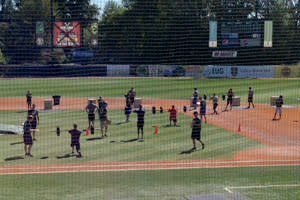 With both men's and women's events, we were treated to an array of amazing athletes. From power snatches to lunges, burpees and jumping rope, these competitors were in peak condition. A variety of boxes (lingo for a CrossFit gym) were represented, so each athlete had their very own vocal cheering squad. From my own informal "survey," people had traveled from a wide range of Western states to compete.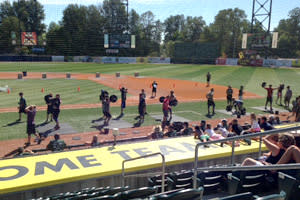 This was the first year of the Sasquatch Throwdown, and I hope to see this become an annual event! We work with sports events, both local and national, to make sure their experience in the Eugene, Cascades & Coast region is both positive and successful. That's why it's so personally fulfilling to see new events get off the ground.
Oh yeah. My blog post title? That was the name of the song blaring across the park during the competition. Seemed very fitting for what these competitors were experiencing. I hope they got to enjoy a local beer and a massage after the event!